Your Job Role - IT Manager
We know that as the IT Manager of a company your responsibilities are the security of the company's computer systems and electronic data, development and implementation of customised systems and integrations as well as overseeing all computer-related activities!
Ok Alone has composed a page of the main questions we get asked about the technical aspects of our products and answered them.
If you have further questions please contact us at [email protected]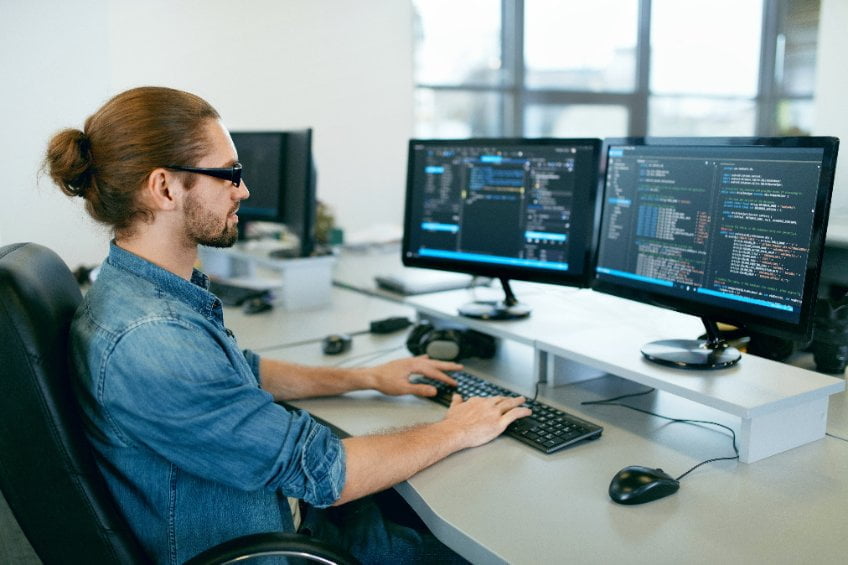 How do we setup the iPhone or Android App?
The Ok Alone is available for free on both the iPhone App Store and Android play Store. When a worker is added to Ok Alone they are sent an sms with their unique pin number and a link to easily download the app.  
We also have a webapp version of the worker app – available at https://app.okalone.net and this can also be downloaded from the Microsoft App Store to use on desktop devices.
How is the Management Dashboard Installed?
Our management dashboard, used by monitors is cloud-based and available for all browsers and devices at https://my.okalone.net. The Dashbaord can also be saved to the desktop or smartphone so it has it's own icon and can easily be accessed at any time.
How do you release software into the system?
In order to maintain system security, compliance and risk management, an assessment is completed on the update.
A New/Major release is subject to a full assessment. Patch releases are assessed based on risk of changes to the application functionality and Emergency Releases forego assessments temporarily until a full assessment can be completed.
What is your backup schedule and Recovery plan?
Our systems have a live backup running alongside the main systems, this backup is always up-to-date with the latest data. This means that if the main system failed, the second/back-up system could be quickly brought online using the most recent back-up data.
We also take full backups of our core systems which are stored off-site and can be used to bring the systems back online if the main recovery system fails. 
What is your password management process?
Core systems require strong passwords (i.e. 8 characters or more, lower and upper case, special characters, alphanumeric) and these are updated regularly. Two-factor authentication is also enforced when appropriate to increase security.
Non-core systems, encourage the use of strong passwords, but more flexibility is accepted.
What firewalls are used to protect the Ok Alone systems?
The Ok Alone system is protected in a number of ways. Cloudflare offers industry-leading protection and shields Ok Alone from DDoS attacks and other malicious activity. Our own systems also have protection from Imunify 360 and built-in firewalls.
All traffic inbound and outbound is encrypted and monitored to prevent unauthorized access to any aspects of the system.
Will the app run on my iPhone?
The Ok Alone app should run on any iPhone with iOS 12.0 or higher. To test this, please download the free app from the App Store and check it loads correctly.
Will the run on my Android phone?
The Ok Alone app should run on any Android device running Android 4.1 and up. To test this, please download the free app from the Google Play store and check it loads correctly.
How is system uptime monitored?
We have a number of system monitoring services – for all aspects of Ok Alone. These include the servers, backups, domains, apis and nameservers. If any issues are detected, our systems team is immediately notified and can respond 24/7.
How do you ensure remote users are secure?
Remote access is only available to team members who require this access. Any access is made through secure channels.
Where is our data stored?​
The servers used by Ok Alone are located in Canada. Data is kept in Canada and is subject to PIPEDA (Personal Information Protection and Electronic Documents Act). This ensures all data received from customers is kept securely.
Data is hosted in Microsoft Azure Data Centres. Check here for complete list of certifications and policy docs 
https://docs.microsoft.com/en-CA/compliance/
More answers to common privacy and data storage questions can be found on the Privacy Officer page.
Ok Alone has SSO available for Microsoft accounts, including Azure and Active Directory, we also offer SSO for ADP customers.
What Integrations does Ok Alone offer?
Ok Alone has a number of integration options, including SSO with Microsoft. We have APIs available for both the worker and monitor functionality:
Other integrations include what3words, Zapier, WhatsApp, Siri, Geotab, Zoleo and Spot devices.
See a full list of out integrations here: https://www.okaloneworker.com/ok-alone-integrations/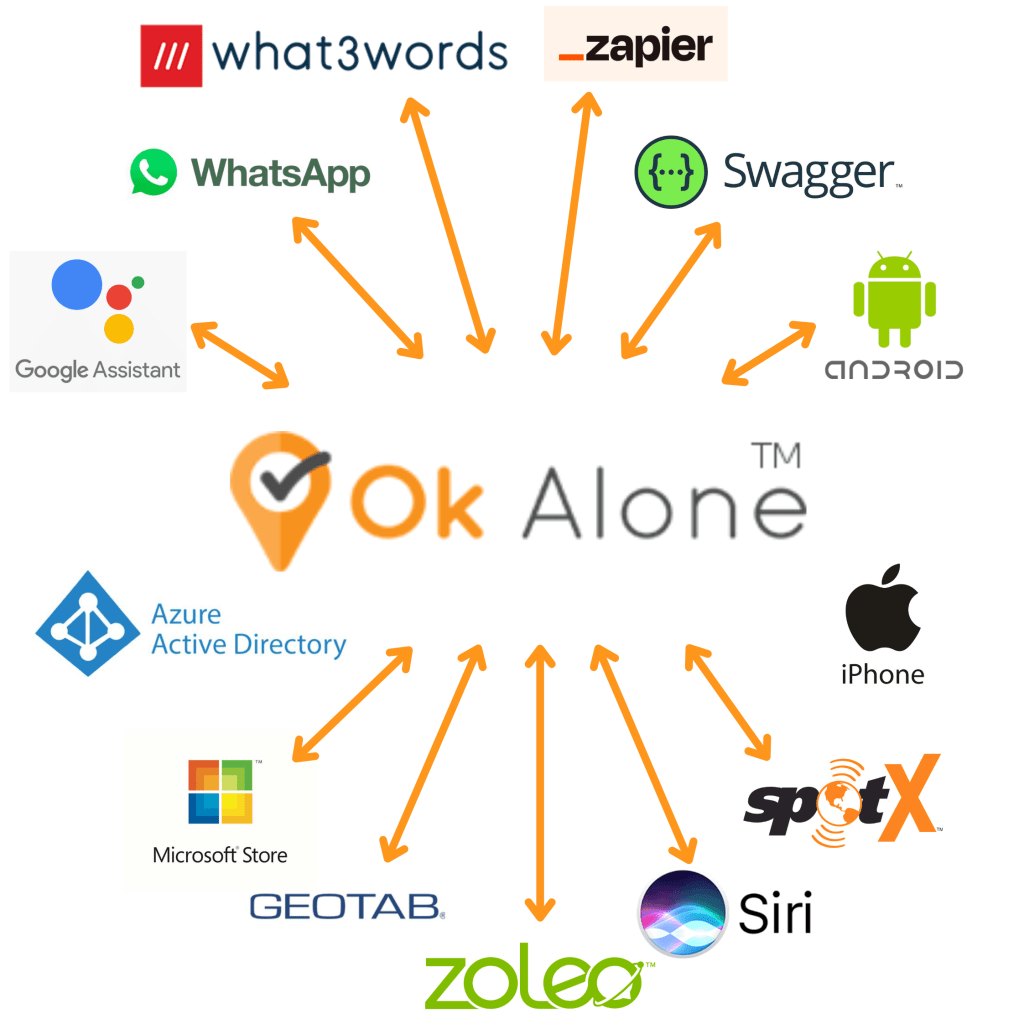 How much data does the Ok Alone app use?
Workers have the choice of choosing between 3 location settings on the App – GPS High, GPG Normal and Non GPS.  We recommend using GPS Normal as the phone will send a location update every few minutes and uses less data than GPS High,  however Non GPS will work as well.
We ran some tests on GPS Normal and Non GPS , and the results are as follows:
 The data usage is about 250kb (0.25 MB) an hour
This is approximately 10MB per 40 hour week.
What does the app access on the user's phone?
At Ok Alone we are very transparent about what we see and collect, as noted in the Google Play store & the Apple App store.
Ok Alone will only access data from the Worker's phone with their permission, in compliancy with local privacy laws.
Access is not permitted to phone elements such as the camera, contacts etc.
The Ok Alone Dashboard provides app data in the worker profile, for troubleshooting purposes and in mapping, if permission is granted by the user.
How does the GPS location monitoring work for Ok Alone?
Ok Alone has three main setting options for location data; GPS High, GPS Normal and Non GPS.
GPS High uses the phones GPS to provide continuous data updated every 10 seconds and is the most accurate setting.
GPS Normal updates a location every 1-2 minutes and reduces battery usage while still providing accurate location data in an emergency.
Non GPS will update the location at regular intervals and maximises battery life, but is not recommended if the worker is frequently moving locations.
The setting is chosen by the worker and can be seen by management. GPS location data is primarily for finding workers in an emergency, however, real time locations are available throughout a worker's shift and can be seen on the Ok Alone dashboard.
What Access Levels does Ok Alone offer?
Ok Alone takes data privacy very seriously, making sure internal access to customer's personal data is on a need to know basis.  All users with access to personal data have individual logins and standard industry security practices are maintained.
Ok Alone customers also have a great deal of control over which people internally see personal data. There are three levels of user access rights for the Monitors, each of which grants different access to personal data.
Admin – Full access to the system
Non-Admin  – Limited access to the system
Extended Privacy  – Restricted access to the system to protect Worker privacy
Workers do not have access personal data. All interaction between Workers and the system occurs through an encrypted connection with the app. Combined, this ensures people's data stays private.
Learn more here https://docs.okalone.net/monitor-access-levels/
One fantastic feature of Ok Alone is that it can be completely automated, there is no need for a call centre. The system is set up so it works in the background, without you having to think about it, until an alert is triggered. With the Worker plan, all supervisors (Monitors) assigned to a worker are contacted simultaneously through phone call, email, SMS and WhatsApp allowing them to respond to the missed check in or Help alert.
With the Comms plan the Alert Loop would be activated and Monitors contacted in sequence until someone accepts and takes responsibility for resolving the alert. These options allow Monitors and Workers to carry on with their day knowing the solution is running behind the scenes. Through switching to automation managers and supervisors get back the time wasted checking in workers manually and will only be called at two o'clock in the morning for a real emergency!
Within the Ok Alone system it is incredibly easy to create reports on different subjects. Reports can be created that show any alerts sent, calls or SMS sent and all actions made by workers throughout a shift. The Worker Report section allows you to see Worker Status, App Not Activated, Has Started a Shift, No Shift Started, Last Shift Started and No Location all within set date parameters.
You are also able to create a list of the Workers connected to specific Monitors. Timesheets for workers can be created, as well as the ability to upload a csv or excel file with start and end shifts for multiple workers to input their shifts en masse to the dashboard.
An airtight audit trail helps companies with regard to their data and information by keeping track of their lone workers and the actions they take, shifts they work and locations they visit.