Lone Worker App
to help keep your
Workers Safe
You're working remotely repairing an aerial at a substation. You fall off the ladder and break your leg, that's it, you're on your own, right?
Wrong. You have a Lone Worker app that uses GPS locations, so by clicking the 'help' button you let your supervisor know you need immediate assistance, and they send a rescue team to your precise location.
Why Are Lone Worker Safety Apps Important?
With more and more people working remotely these days, either out in the field or alone in their homes, it is vital they have a way to check in with supervisors or get help in critical situations. Some lone worker systems involve using expensive, cumbersome external equipment that needs to be carried around all shift, this is not ideal when you have enough to carry or remember on a daily basis. Lone worker apps, however, offer remote workers the necessary safety equipment with the ease of adding it to the technology they already have with them.
Ensuring Working Alone is Safe, no Matter What Device you are Using
The brilliant thing about a lone worker app is that it can be installed on a wide range of devices. Currently 48.20% of the world's population use a smartphone (1). This means the majority of lone workers are able to go to the Google Play store for an Android device or Apple App store for iPhones and download their lone worker protection. Through this method apps can also be downloaded for use on iPads and tablets.
Great lone worker apps also work on older model Zero G mobile phones, landlines and even have capability to work with satellite phones. Users should be able to use their app on a pc through Windows or any other browser. The best lone worker apps though allow you to use voice commands and access your solution through Siri or any Alexa Dot or Google Home device.
1 (Source: https://www.bankmycell.com/blog/how-many-phones-are-in-the-world)
Six Popular Lone Worker Safety App Features & Benefits
A vital aspect of any solution is a flexible count down timer that can be set from 15 minutes to 24 hours as scheduled check ins or changed depending on the situation.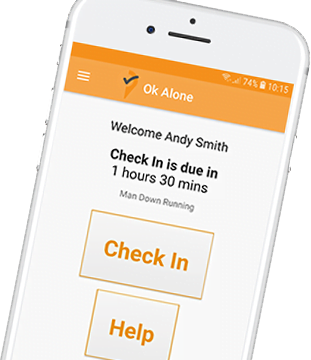 If no movement is detected the app should sound an alarm firstly alerting the worker that there has been no movement to avoid false alarms. If the alert is not responded to by the lone worker, then a man down alert should be escalated to an allocated supervisor.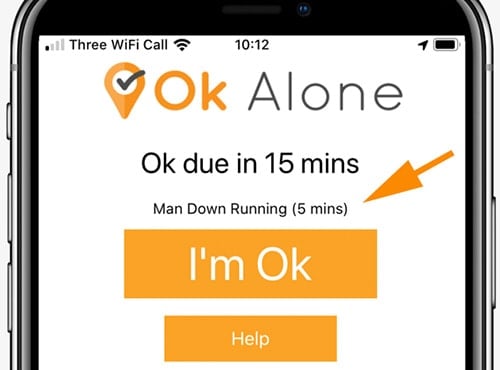 GPS monitoring needs to give a worker's real time positioning in an emergency, no matter how remote locations are. There are a number of settings available to workers depending on the accuracy required.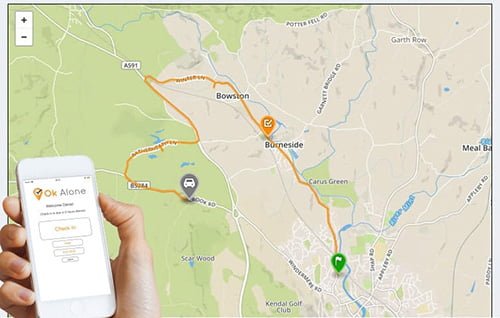 If a worker requires immediate help they should be able to tap the HELP button on the app, send an sms with their worker ID number and the word HELP or call in and select HELP from the menu.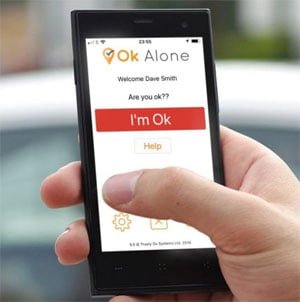 There are times when a worker is entering a high risk situation and they want the ability to shorten their next check-in time themselves. This should be something they can easily control through the app.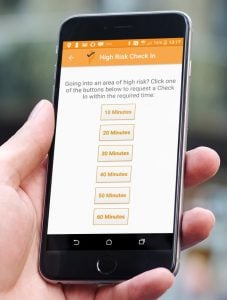 The dashboard should give a clear, detailed map of the area each worker is in. This will allow supervisors to have precise co-ordinates to send help to if a worker misses a check in or requires emergency services.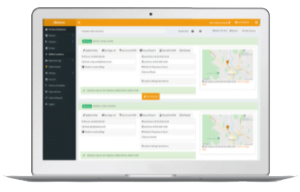 What Lone Working App Should I Choose?
Ok Alone is the perfect low-cost lone worker system to ensure workers safely complete each shift. The all in one solution is a simple safe worker app (that doesn't require additional clunky hardware) which connects workers with a supervisor who monitors their health and well-being.
The Ok Alone system has a wide range of features designed to make staff working remotely feel safer. An automated countdown timer, as required by work alone legislation and the duty of care, will remind an employee to check in using either the smartphone app, sms or phone call. Other features like Man down detection and high risk check ins give staff an increased sense of security. Ok Alone's smartphone app works in conjunction with a website and cloud-based dashboard that can be used on pc, laptop, tablet or any smartphone. The online dashboard will display a map with the workers last known location if an alert is triggered.
A unique feature of the Ok Alone solution is its ability to be used completely hands-free with voice commands. Android or iPhone verbal short cuts can be programmed into the app, allowing workers to start shifts, check in and most importantly, request help without touching their phone.
Want a quote for Ok Alone? Please email us at [email protected] and we will send you a quote for our lone worker solution.