Lone Worker App and Safety Monitoring

Low Cost Lone Worker App & Safety Monitoring
Want to Try the Ok Alone App?
Please email us at [email protected] and we will set you up with a Free Trial where you can try all our lone worker features.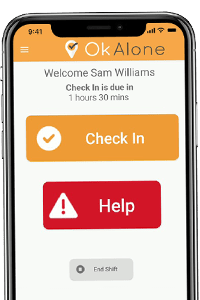 All workers, management and staff deserve to feel secure during their workday and return home safe at the end of every shift.
Safety should be at the heart of every workday. Having employees and employers being engaged in a fun, competitive safety system achieves that.
Not everything has to cost the earth. We created a lone worker protection system that has lower costs and still offers a high level of service.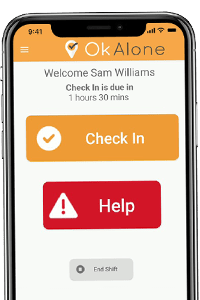 What is a Lone Worker App?
A lone worker app allows lone workers to check in regularly and send alerts to request help if they are in difficulty. Our man down app detects worker movement and it also monitors their location in case of emergency.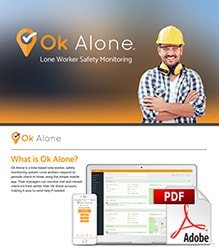 What is Ok Alone?
Download our brochure about our work alone solution and find out more about how Ok Alone can keep your lone workers safe.


Why choose Ok Alone as your Lone Worker protection?
A Day in a Life with Ok Alone
Ensure Your People Are Safe
Your team can quickly check-in from anywhere using our lone worker smartphone app, by SMS text, by phoning in on an office or home phone or having Ok Alone call them. Ok Alone alerts your monitors to missed check-ins with emails, phone calls, sms messages or whichever combination works best for you. Our safe worker app also includes man down and high risk check ins. Don't have any monitors available yourself? The Ok Alone 24/7 call centre will escalate missed check-ins or help requests according to your instructions.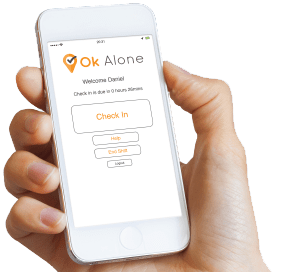 Know Where Your Team Are, Even When Your Workers Are On The Move
The Ok Alone lone worker app uses GPS positioning to offer reliable employee monitoring, allowing you to pinpoint where your staff are, even when they are on the move. This makes it easy to find them quickly in an emergency. The daily location report also shows you where they have been, which can be used to confirm to your customers, your team are where they are supposed to be.
24/7 Live Operator Monitoring, As You Need It
Our 24/7 call centre handles your missed check-ins and help requests when your monitors aren't available. But you control when you want Live Monitoring to be on or off. This control significantly reduces your costs.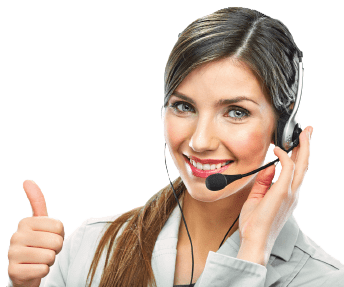 Minimize Your Work Alone Costs​
Don't spend any more than you have to on your work alone app & worker safety monitoring. Ok Alone gives you everything you need, just as much as you need, at a lower cost than any similar system. Complete packages for up to five workers start at just $5/£4 per person. If you've got a larger work force, the per worker price falls from there.

Be In Control Of Your Safety Procedures​
Because every job is different, Ok Alone lets you create a unique escalation and check-in procedure for each lone worker. You control how to reach them, how often they need to check-in and how missed check-ins or help requests are escalated and resolved. It's all very easy to manage from within your Ok Alone online account.​
Features for Lone Workers
Need an estimate for a lone worker solution? Click here to view our pricing page and get a customised quote in minutes.
We believe our lone worker app is so simple to use, that in the next 3 minutes, you can start your first shift, send a help request. 
Get free access to the whole Ok Alone system for 7 days. You can try the app and online dashboard and see how Ok Alone can help keep your empoyees safe.