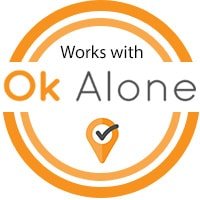 The Zoleo devices can now be used with Ok Alone to keep lone workers safe.
ZOLEO lone worker devices act as a connection so your smartphone continues communicating outside of normal coverage areas. The device itself has built-in SOS and check-in functionality that work separately from the smartphone, but through the phone app.
When using the Ok Alone app connected to the ZOLEO via Bluetooth, you can send and receive text messages outside cell coverage. These messages are connected with Ok Alone and help lone workers stay safe on the job.
ZOLEO Features for lone workers:

IP68 protection against dust and water
One touch Check In button that also sends location data
Weather updates via DarkSky
Auto-share location with up to 5 check-in contacts
SOS button to immediately send for help
Can connect to a smartphone app via Bluetooth
Works internationally, using the Iridium satellite network
Messages can be customized to work with Ok Alone
Also send texts via cellular and Wi-Fi
8 days of battery life if left on 24 hours a day
Dedicated SMS number and email address
A ZOLEO communicator allows lone workers to have a specific number which communicates with Ok Alone for ease of use. No worrying about having to re-set workers with a new pin each time, simply set it up once and use it again and again to stay safe.
Being able to link up your smartphone means you can send/receive longer messages and have conversations continue via cellular/Wi-Fi/or over the Iridium satellite network. The simple button layout on the ZOLEO lone worker device helps workers to easily trigger the SOS alert in an emergency. A real strength of ZOLEO is its simplicity and ease of use, just like Ok Alone.
A ZOLEO device can be easily used to work with Ok Alone by simply sending messages with familiar Ok Alone phrases like 'start shift', 'check in', or 'end shift'. Monitors are able to make sure workers are safe by seeing their location when a check in is due.