Are your Workers at Risk? Use the Lone Worker App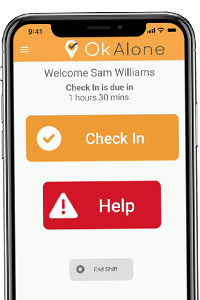 Lone worker apps are not all the same. Of course everyone says their app is great, but the best way to know if an app is great for you is to try it. So Ok Alone created the 3 minute challenge.
We believe our lone worker app is so simple to use, that in the next 3 minutes, you can start your first shift, send a help request and logout – all without reading an owners manual or needing a "personalized demo" with a salesperson.
Want to Try the Ok Alone App?
Please email us at [email protected] and we will set you up with a Free Trial where you can try all our lone worker features.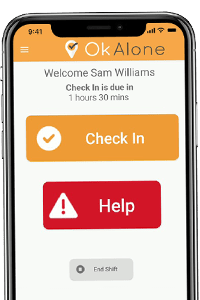 What Customers think of our Lone Worker App
We have some fantastic reviews of our app on both Google Play and the App Store, here is a selection of our favourites:
When you have staff working off site or unsupervised this is a great app to help with Health and Safety. You can't anticipate what may happen during the course of one's day. This app provides a great option in mitigating a level of risk in combination with other processes and procedures. Nothing is more important than going home safe at the end of the day.
by LisaE2020 – 13 Oct 2020
Used the app while working alone during the pandemic installing new lights in our church. Having an app like this while working on 15 ft high scaffolding was very helpful in convincing people that I could do this project alone. Excellent support with all my questions and requests answered immediately.
by Yxd2015 – 19 May  2020
Highly recommend this service
Been using this for a while now. Only had 1 problem (was my end) but customer service was brilliant at trying to figure out the issue. Highly recommend this service for peace of mind if you are a lone worker.
by Robert Marrin – 3 May 2020
Using Ok Alone for the first time and its surprisingly quick and simple to get started. The new Man Down feature works well.
by Owen Wonorg – 21 September 2019