Introducing a lone worker safety solution to your workforce isn't enough, they need to be trained in how to use the solution to their best advantage.
The lone worker training needs to be accessible for all levels of staff, and fit the users needs, so everyone leaves comfortable and confident using the system. 
The lone worker safety training needs to explain:
What the solution does
Why the solution is being introduced
How to use the solution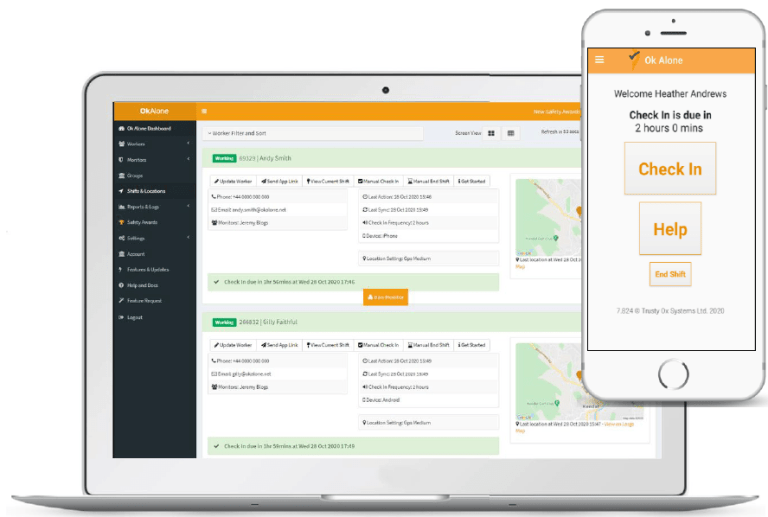 Teach lone workers why they need a Lone Worker Solution
A safety monitoring system needs to be embedded into an organisation so it is well understood by workers.
Businesses need to be transparent with workers on the extent of monitoring and the use of data locations. They need to let people know who can access the information and the privacy levels issued to supervisors.
It is key that workers understand the need for location information is for keeping workers safe, not tracking their lunch break or movements throughout a shift.
Training should include how Alerts work in real life
Lone worker safety training needs to be done where workers activate alerts in real life and see what happens. 
Research has shown that workers can be worried about what will happen when they request help or miss a check in – leading to improper use of a lone worker app.
Workers need to be confident in using all aspects of a lone worker app and there needs to be a mentality that false alarms are not going to get people in trouble, but can be used as an opportunity to test the efficiency of the system.
More Information about Lone Worker Training
The importance of proper lone worker safety training
For companies that employ lone workers, it's crucial to equip these employees with a suitable lone worker monitoring solution. This solution should facilitate seamless communication between workers and supervisors throughout their shift and provide an alert system for any potential problems or safety risks. For such a monitoring system to be effective, it must be deeply integrated into the organization, with workers understanding its role in fostering a safe work environment.
Firms that prioritize their duty of care typically include lone worker systems as part of their personal protective equipment (PPE). This provision supports workers in locations where certain risks cannot be entirely mitigated. Lone worker apps, equipped with help buttons, have proven to be effective in instances of aggressive or violent behaviour from the public. They empower employees to raise an alarm in any situation where they might feel at risk.
Training is a crucial aspect of the process of creating a safe work environment. It should encourage employees to incorporate the monitoring system into their daily routines and assure them that they can confidently raise an alarm in the event of an emergency. This lone worker training should explain the necessity of the solution, its functionality, the reasons for its introduction, and its ease of use. It should also reinforce the idea that false alarms are acceptable, as they serve as evidence of the system's operational effectiveness.
Clear communication procedures are paramount for the success of any monitoring solution. Companies should regularly test their lone worker solutions and all emergency procedures to ensure that lone workers can be reached or contacted if a problem or emergency arises.
Ideally, companies should cultivate 'Champions' within their ranks, individuals spanning various departments who are responsible for employee training and usage needs. These champions can play pivotal roles in organizing and delivering training, answering health and safety-related queries, and embodying 'best practices' for others to emulate. Additionally, they can serve as regular points of contact for staff to discuss any safety issues or concerns regarding safety procedures.
Ok Alone subscriptions are within the budget of even the most cost-conscious organisation. With no set-up fees or long term contracts, you can quickly be up and running for as little as $8/£7 per person per month. Why not create your own personalised quote now?
Want to Try the Ok Alone App?
Please email us at [email protected] and we will set you up with a Free Trial where you can try all our lone worker features.