Enterprise Safety & Lone Worker Monitoring
Enterprise level organisations are concerned about safety, liability and ever-evolving regulations. Ok Alone can make it easy to comply with legislation by monitoring the safety of your staff, groups, teams, and departments wherever they are, whatever they're doing. We can scale to meet the needs of any organisation or corporation, even across countries and time zones.  
Our features are available to use across a range of devices and can be adapted by those using them to make the solution as simple as needed for both workers and Admin users.  
Let Ok Alone help your large organisation comply with duty of care regulations.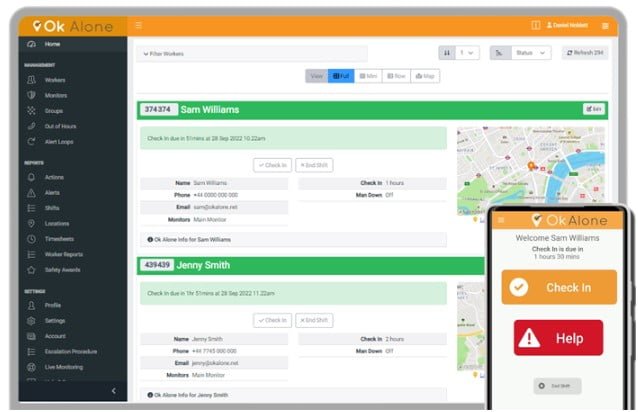 Why do Enterprise organisations choose Ok Alone?
High Engagement
Make sure your staff keep using Ok Alone on every shift. The app is easy to use and does not disrupt work patterns.
Fully Customisable
Enable the features you need to keep your workers safe and make sure you are following safety rules correctly.
Regular check ins with GPS locations let you know where your staff are throughout their shifts.
Easily import workers and monitors from your existing management systems and get staff using Ok Alone with just a few clicks.
Extended Privacy
Give users only the access they need. Protect your employees privacy with number of access levels.
Integrate with your Systems
SSO and our flexible API means you can integrate Ok Alone with your existing tools. Including Microsoft Azure, JumpCloud and your own systems.
Automated Reporting
Get in-depth reports about how staff are using Ok Alone and keep on top of any issues.
Manage Teams in Groups
Separate your teams into relevant groups with different lone worker settings and monitors.
Move from Manual to Automated Safety Monitoring
Simplify your reporting and safety monitoring by automating your system.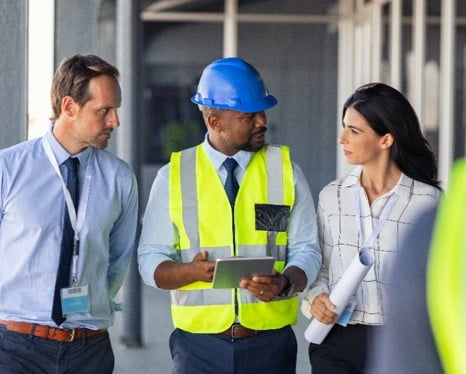 Features for Enterprise Clients
Ok Alone has many great features that can scale to meet the needs of any size organisation or corporation. Companies can choose to have all of Ok Alone's features or as many as they wish. 
Flexible Check Ins
Choose suitable check in times for workers depending on their working environment. The timer can also be removed if needed.
Location Monitoring
Location monitoring works even when the app is in the background. Meaning you get constant location data at all times.
Our automated lone worker monitoring means your staff are protected 24/7. Monitors are alerted in emergencies and separate out of hours monitors an be assigned.
With our man down alarm and monitoring you can be alerted if a worker stops moving. Man/worker down can be customised depending on the environment.
Why develop a whole new lone worker system for your app when you can use our simple API to manage your work alone protection.
Free App for Smartphones
Our top-rated app can be downloaded from app stores with a few clicks. Workers link their account with a pin number and can get going in minutes.
Single Sign-on and Data Integration
Integrate Ok Alone with your existing systems. Easily import workers and monitors from Azure or other identity management systems and allow access via SSO.
Automated Reporting
Automated reporting can provide a daily summary of employee actions, these reports can be emailed daily/weekly or extracted using our API.
Demonstrate Compliance
Comply with your local work alone legislation and regulations with our flexible lone worker features.
High Risk Check Ins
Workers can reduce the check in time when they go into an area of high risk to make sure they have the protection they need.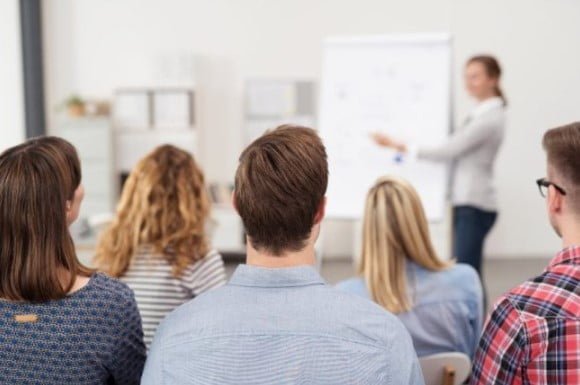 How Ok Alone can help rolling out a lone worker solution
Our Customer Success team are ready to help companies roll out Ok Alone throughout their organisation. We can integrate Ok Alone with your existing systems and easily import workers and monitors from Azure or other identity management systems and allow access via SSO.
What are the fees for Enterprise Safety Monitoring?
Ok Alone subscriptions for enterprise monitoring start at $5/£4 per worker/month with reductions for larger accounts. We do not charge for monitors and have no set-up fees or long-term contracts. To discuss pricing options please email us at [email protected] or fill in the form below.
Want to discuss Ok Alone? Please email us at [email protected] and we will arrange a call.