The Ok Alone system should be simple to understand and use. Meaning that it can easily be deployed to workers and once it is setup there is minimal on going maintenance.
Here is a useful diagram explaining how the Ok Alone lone worker system works: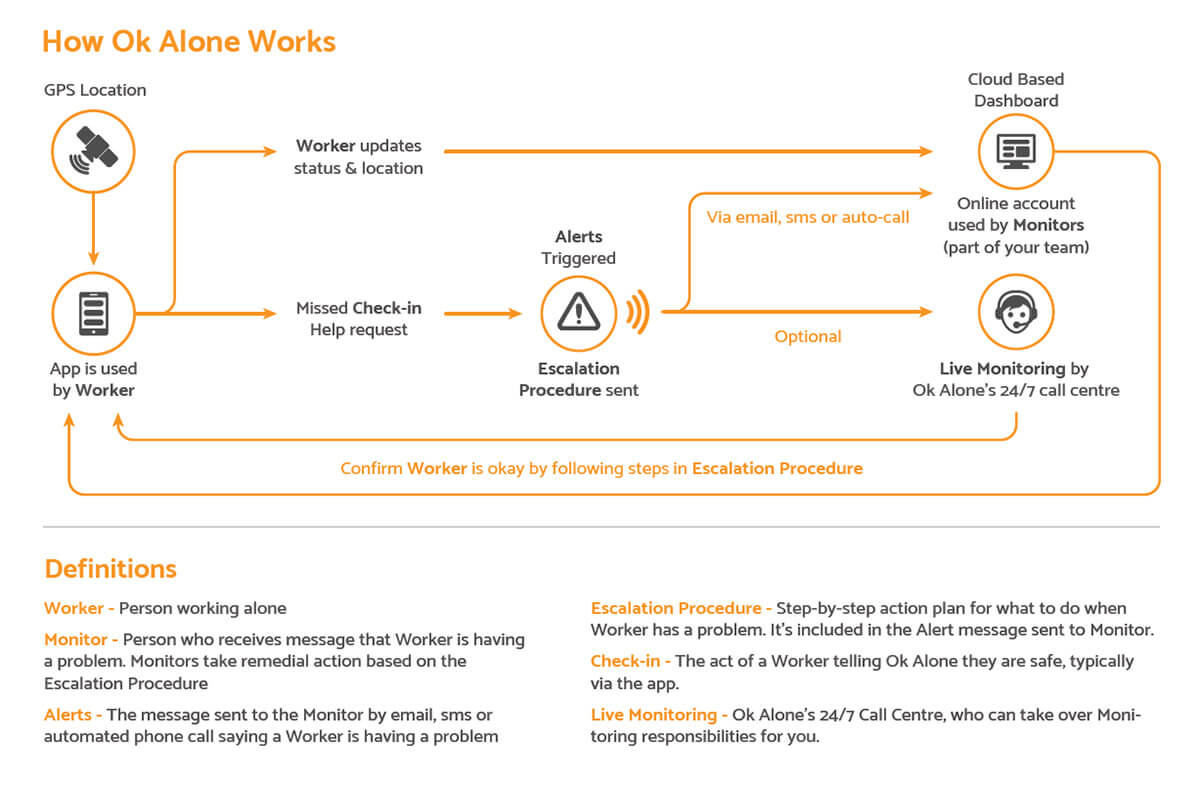 Worker – Person working alone
Monitor – Person who receives message that Worker is having a problem. Monitors take remedial action based on the Escalation Procedure
Alerts – The message sent to the Monitor by email, SMS or automated phone call saying a Worker is having a problem
Escalation Procedure – Step-by-step action plan for what to do when worker has a problem. It's included in the Alert message sent to Monitor
Check-in – The act of a Worker telling Ok Alone they are safe, typically via the app
Live Monitoring – Ok Alone's 24/7 Call Centre, who can take over Monitoring responsibilities for you
As a principal engineer with extensive industry experience for over 20 years, I offer a wide range of skills to help develop businesses online. With a proven track record in systems development, search engine optimization, online advertising, and marketing, I am passionate about developing and growing B2B, SaaS, and web-based products.
I specialize in lone worker solutions and have the ability to identify and implement suitable technologies for a wide range of projects. With Ok Alone, I've been instrumental in building the top-rated lone worker app, which provides protection for lone workers across industries worldwide. I'm a strong believer in the importance of the client-developer relationship and regularly seek customer feedback to help improve our systems.