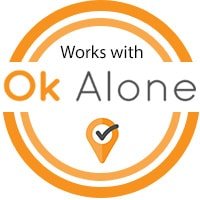 The Spot Satellite Devices from Globalstar can be used together with Ok Alone to help keep lone workers safe. Spot devices use both GPS and Globalstar's own satellites to transmit locations and messages.
They offer different levels of service plans, but each supported device works well with Ok Alone; a favourite of ours is the Spot X. This is because the Spot X can communicate not just through the phone's GPS and simple data but can send and receive SMS communications for a more thorough connection to our system.
Spot X features for Lone Workers: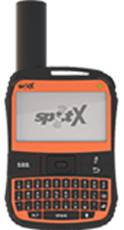 Has a resistance rating of IP67 for impact, water, & dust
Allows a range of tracking options for accuracy and timing
Tracking can be set to 'motion-activated' to save battery
S.O.S button to immediately send for help
Can connect to a smartphone app via Bluetooth
Spot X lone worker device can send/receive SMS messages
Messages can be customized to work with Ok Alone
Has a built-in check-in button that can be set up to automatically send a check-in to Ok Alone
Has over 250 Hours of Battery Life in 10 minute tracking mode
Operates at extreme temperatures -20*C to +60*C, as well as altitudes -100m to +6,500m
Using a Spot lone worker device allows a worker to keep in contact with monitors on Ok Alone even if they are far outside of cell tower coverage areas. Each Spot device has a unique ID that can be linked to a worker in Ok Alone to allow for easy confirmation each time a worker starts a shift.
All Spot lone worker devices need to be set up with Ok Alone before being able to use our services. We have created some handy documentation that helps guide our users through the set up process, they are available through our Help Portal.
As a principal engineer with extensive industry experience for over 20 years, I offer a wide range of skills to help develop businesses online. With a proven track record in systems development, search engine optimization, online advertising, and marketing, I am passionate about developing and growing B2B, SaaS, and web-based products.
I specialize in lone worker solutions and have the ability to identify and implement suitable technologies for a wide range of projects. With Ok Alone, I've been instrumental in building the top-rated lone worker app, which provides protection for lone workers across industries worldwide. I'm a strong believer in the importance of the client-developer relationship and regularly seek customer feedback to help improve our systems.