Our lone worker solution from Ok Alone works with Google Home. We have an action for your smart home speaker that lets you connect to your Ok Alone lone worker account and manage your status while you work alone.
What is Google Home?
Google Home is a brand of smart speakers, on call 24/7 they can answer your questions, play music and perform various tasks. You can use Google Home to listen to your favourite tunes, it can tell you the weather or the news and you control it using your voice only. You can also manage your Ok Alone status with Google Home.
How do I Add Ok Alone to Google Home?
Using Actions for Google Home you can search for Ok Alone and our Google Home lone worker action, then add it to your smart speaker. It is then ready to use out of the box. Find out more here…
How do I Manage my Lone Working with Google Home?
Once the Ok Alone lone worker action is installed, here is how you can use it when working alone to manage your status with any Google Home device. the action name is Work Alone,
1. Set Your Lone Worker ID
To link Google Home to your smart speaker you need to tell it your worker ID. This is a 5/6 digit pin number. To do this say
"Tell Work Alone my worker ID is …" followed by your worker ID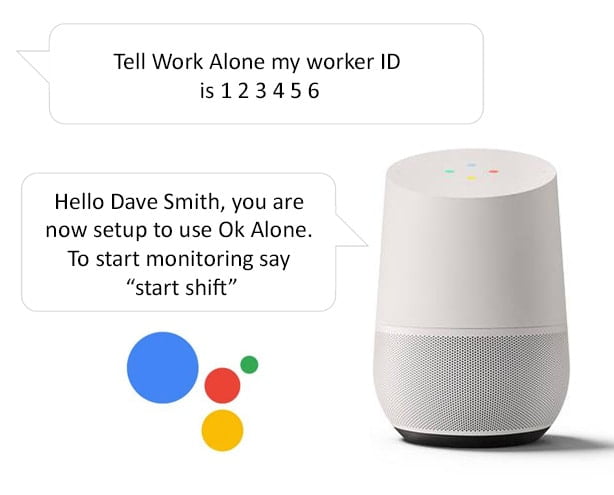 2. Start Your Lone Working Shift
Once Google Home is linked to your Ok Alone account, start your shift by saying
"Ask Work Alone to start my shift"
Your shift will then be started and Google Home will say your check in time.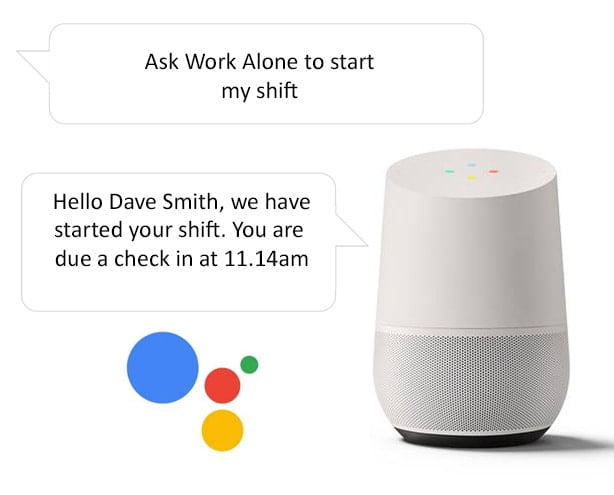 3. Check In with Google Home
When you are working you can check in at any time by saying
"Ask Work Alone to check in"
You will be checked in and Google Home will say your next check in time.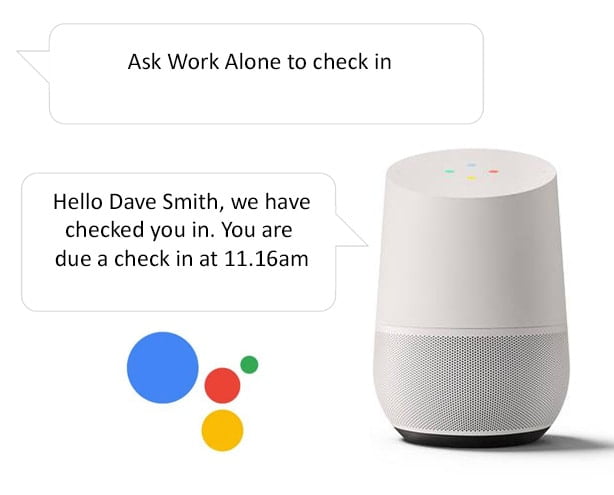 4. Get Your Lone Worker Status
When you are working you can get your current lone worker status by saying
"Ask Work Alone for my status"
Google Home will then say your status.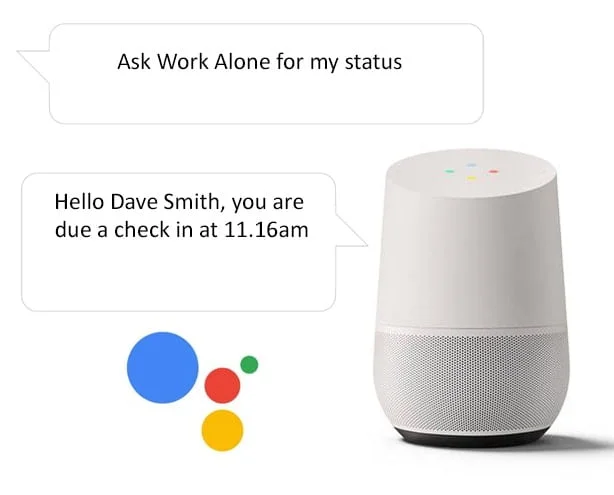 5. Get Help with Google Home
When working alone you can get help at any time with Google Home by saying
"Ask Work Alone for help"
A help alert will then be sent out to all your monitors.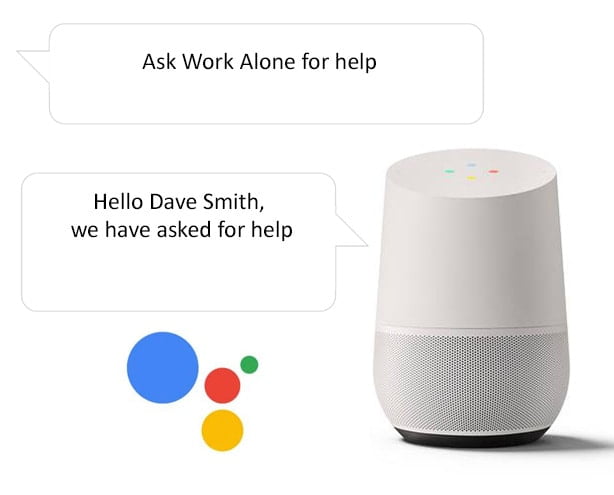 6. End Your Lone Worker Shift
When working alone and your shift has finished, you can say
"Ask Work Alone to end my shift" and Google Home will end your shift.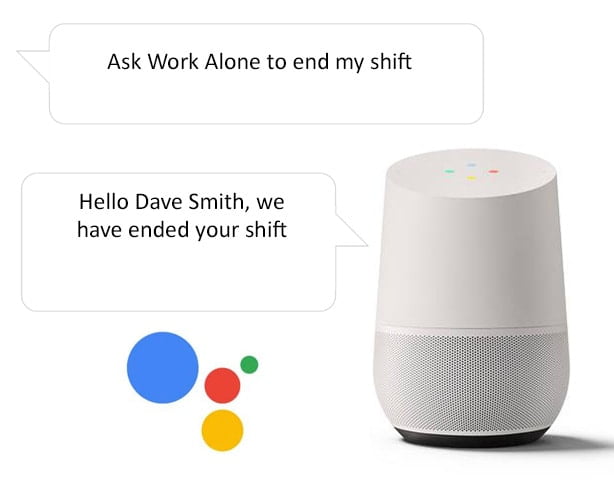 Google Home and our Ok Alone event is available for everyone, even on free trials. So use the links above to try Ok Alone for free today.
As a principal engineer with extensive industry experience for over 20 years, I offer a wide range of skills to help develop businesses online. With a proven track record in systems development, search engine optimization, online advertising, and marketing, I am passionate about developing and growing B2B, SaaS, and web-based products.
I specialize in lone worker solutions and have the ability to identify and implement suitable technologies for a wide range of projects. With Ok Alone, I've been instrumental in building the top-rated lone worker app, which provides protection for lone workers across industries worldwide. I'm a strong believer in the importance of the client-developer relationship and regularly seek customer feedback to help improve our systems.