A vital aspect of any lone worker monitoring procedure is the actual 'check in'. By legislation in the UK and in many Canadian provinces, lone workers must be monitored for safety reasons. Here are a few tips to help you, as an employer, to devise and establish a lone worker check in procedure.
What are the main aspects of a lone worker check in procedure?
The most commonly used check in method is by phone. Lone workers call in using a home, workplace or cell phone at predetermined intervals. More recently, smartphone apps have become popular. It's critical to ensure that your lone workers have access to a reliable check in method.
You can appoint an employee monitor, use a call centre or partner with a reliable lone worker monitoring service as the point of contact between you and your worker. If there is only one contact person, ensure you have a back-up.
You should create a plan describing the movements of the employee or employees in question to determine when they will need monitoring.
Establish with your lone workers when and at what intervals they will check-in.
Ensure your check-ins are regular and that your lone worker is diligent.
Create a code word to identify your lone worker, in case they are attacked and their assailant knows enough to follow the procedure.
Have an escalation procedure ready in the event of the lone worker reporting an injury or not checking in.
For lone workers who are travelling to a work site or constantly in transit (truckers, for example) it's important that you know:
Their destination
Estimated time of arrival
Return date and time
Their mode of travel and if it's public, their contact information, and
Any change of plans due to vehicle breakdown or weather etc.
Ensure the safety of your lone workers and simplify your 'check in' obligations by partnering with Ok Alone. Our multi-functional system includes a smartphone app with automated and live monitoring options to suit your needs. We are highly flexible and offer you the option of being informed first of missed check-ins, or for them to be managed by our system until your escalation procedure directs us to contact you or emergency services. You can even monitor your own employees within business hours and switch to Ok Alone live monitoring after-hours. Our very reasonable subscription fees make it painless to have your lone workers well-protected.
Ok Alone offers the best value compared to any similar lone worker monitoring system
With subscriptions starting at only $8/£7 per month per employee, Ok Alone is your best choice for a lone worker monitoring service. There are no set-up fees or long term contracts and the system is simple to implement. Contact us today.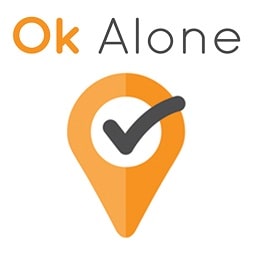 The Ok Alone team writes informative articles about lone working. Through our articles, we aim to educate readers on the benefits and best practices of using our lone worker app, and how Ok Alone can help mitigate risks and enhance communication between workers and monitors.  Learn about other areas including legislation, risk management, and legal compliance plus lone worker features such as man down, high-risk check ins and location monitoring.