In August 2016, a home health service provider in the US was fined because of an incident in which a nurse lone worker was sexually assaulted by a client while providing health care services in the client's home. The fine was levied because an investigation by the US Occupational Health and Safety Administration concluded that the employer had no system for reporting threats or incidents of violence in the workplace.
Every day that you send your nurses, health care aides, therapy specialists and home support workers out into the community to do their job, they are at risk. They deserve a lone worker protection system, don't they?
What are the Hazards to Lone Working Nurses?
Lone worker safety is a complex issue in the home care environment, compared with providing health care services in a dedicated health care setting. Managing patient care on their own, without the opportunity to call on a co-worker for help, is obviously a risk, but there is much more for your employee to watch out for, including environmental dangers.
Patients may live in areas of high crime, in buildings that aren't safe, or with other people who present a risk to your valued staff member. It's critical that lone working nurses are trained to assess all of the risks associated with providing care to individual patients.
For each patient, perform a hazard assessment that includes:
Travel risks
Home, building or neighbourhood dangers
Risks from interactions with others in the household
Understanding the patient's mental status, and
Hazards of providing the necessary care (communicable disease prevention and musculoskeletal injury prevention)
Use this assessment to develop a plan that addresses risk and includes mitigating strategies to meet both the client's care needs and your lone worker's safety. Dedicated lone worker protection systems can play an important role in the mitigation of risk.
Integrated, Automated Lone Worker Safety Systems
Keeping in contact, as often as you deem necessary, is key to keeping lone working home health care practitioners safe. That's why our lone worker safety app works so well. It's available for iPhone and Android devices and it's simple to use. Ok Alone's lone worker protection system is affordable and flexible – it can be adjusted for individual workers; you can have your lone working nurse check in as frequently as every 10 minutes in a particularly high risk situation.
Want to find out how easy it is? –Try it for free.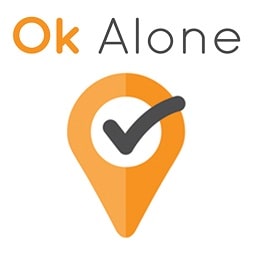 The Ok Alone team writes informative articles about lone working. Through our articles, we aim to educate readers on the benefits and best practices of using our lone worker app, and how Ok Alone can help mitigate risks and enhance communication between workers and monitors.  Learn about other areas including legislation, risk management, and legal compliance plus lone worker features such as man down, high-risk check ins and location monitoring.