Ok Alone's employee safety app works in conjunction with a fully integrated cloud-based dashboard. The dashboard homepage allows Monitors to see, at a glance, the status and location of workers on shift. The dashboard has several sections – Workers, Monitors, Groups, Reports, Management, Settings – that make keeping track of your team even easier.
The Ok Alone Dashboard, designed for lone worker safety, offers real-time GPS location tracking, enabling employers to promptly respond to emergencies. 
Workers' statuses are visible, displaying if they are overdue, at high risk, or have requested help. The dashboard offers customizable features, allowing for tailored check-in frequencies, group creation, and escalation procedures. 
Reports provide detailed insights into workers' app usage, locations, shifts worked, alert triggers, and more. Historical actions such as check-ins, missed check-ins, and help alerts are viewable, along with monitor responses. Admins can easily manage worker details, shift calendars, safety zones and more.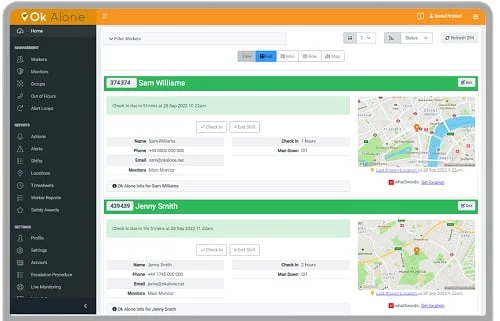 Features of the Ok Alone Dashboard
Safe Worker Apps that support lone worker safety with real-time monitoring offer numerous benefits, contributing to a more secure and efficient work environment. Here are some of the key advantages:

Real-time GPS location
See real-time employee locations on detailed maps that can be viewed by Monitors on a range of devices. This enables employers and organizations to keep track of the location of lone workers allowing for a quicker response in case of emergencies, accidents, or other incidents.

Worker Status
See the status of every worker on shift – overdue, high risk, fine.

Customisable Features
Set check in frequencies, create groups, write escalation procedures.

Notifications
Receive notifications about worker emergencies in multiple ways -SMS, email, phone call, WhatsApp. Notifications include a link to the dashboard.

Reports
Keep up to date with workers seeing their app usage, actions and alerts triggered, shifts worked, locations, group details, alert loops, timesheets and report scheduling.

Worker Actions
View historic actions throughout a shift, such as check ins, missed check ins and help alerts. See the response from Monitors to each action.

Admin Access
Easily add and remove workers, contact information, check in frequency, Monitors, groups, escalation procedures, device details, time zones, start and end shift calendar and safety zone allocation.

Meet Compliance
Fulfil your legal obligations and duty of care to your workers.

Monitoring
Monitor the safety of workers automatically through the dashboard or the call centre if required out of hours or at weekends.

What3words
Ok Alone is fully integrated with what3words to give more precise locations for remote areas.
Learn more about our lone worker app with our demo video.
Why you Should choose Ok Alone's Lone Working App
Ok Alone is the perfect low-cost safe worker app to ensure workers safely complete each shift. The all in one solution is a simple app (which doesn't require additional chunky hardware) to connect workers with a supervisor who monitors their health and well-being.
The Ok Alone system has a wide range of features designed to make staff working remotely feel safer. An automated countdown timer, as required by work alone legislation and the duty of care, will remind an employee to check in using either the smartphone app, SMS or phone call. Other features like Man/Worker down detection and high risk check ins give staff an increased sense of security. 
A unique feature of the Ok Alone solution is its ability to be used completely hands-free with voice commands. Android or iPhone verbal short cuts can be programmed into the app, allowing workers to start shifts, check in and most importantly, request help without touching their phone.
There is no upfront investment or long term contract required as accounts run month to month giving employees and employers peace of mind for as long as it is needed.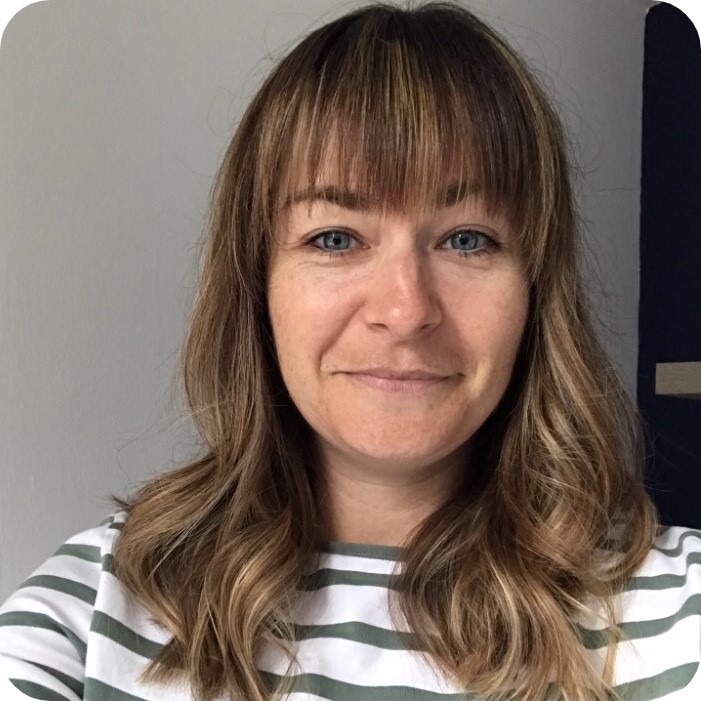 As an expert in lone worker content management, I possess an extensive knowledge base and experience in the area of lone working and safety monitoring. My expertise in this field encompasses a wide range of areas, including risk assessment, training, communication, and technology. I have a deep understanding of the unique risks associated with lone workers and have researched and written many projects and articles to educate people in how to mitigate these risks.
Throughout my time with Ok Alone, I have kept up to date with technological developments, legislative changes and regulations that have been introduced to help organizations ensure the safety of their lone workers.