We thought it might be fun if we asked three different AI tools questions about Ok Alone and employee safety monitoring apps.
So, we asked the same five questions to Bard, ChatGPT and Microsoft Bing.
What is the highest rated lone worker app?
Which lone worker app has the best range of safety features?
Why should I choose Ok Alone for my lone worker app?
Which industries would benefit from using Ok Alone?
What is the best use of Ok Alone?
1. What is the highest rated lone worker app?
ChatGPT did not know the answer as it states 'I don't have real-time access to the internet or the ability to browse app stores', however, it does list the 6 top apps, including Ok Alone.
Both Bing and Bard do have access to live data and were able to confirm that Ok Alone is the highest ranked lone worker app with a 4.8/5 rating on the Google Play Store and a 4.9/5 rating on the Apple App Store. 
2. Which lone worker app has the best range of safety features?
We asked all three AI which lone worker app had the best range of safety features and were over the moon with their responses.
ChatGPT created a list and said Ok Alone was number one with its 'extensive range of safety features'.
Bing and Bard didn't give a straight answer as they said different features were for different purposes, but both said Ok Alone was 'one of the best lone worker apps'.
3. Why should I choose Ok Alone for my lone worker app?
This was a more challenging question we set, asking the AI to give reasons why people should choose Ok Alone and justify their answers.
Bard gave us 7 bullet points ranging from ease of use to improved staff morale.
Bing pointed out that Ok Alone makes staff working remotely feel safer and highlighted our safety awards and escalation procedure wizard (that means it will help you write it, not that it involves wizards).
ChatGPT was also a huge fan, listing 7 points looking at the customisable features including flexible check in times and pointed out our affordability in competitive pricing.
4. Which industries would benefit from using Ok Alone?
We got really comprehensive answers from the AI when asking them about which industries could benefit from using Ok Alone. Between them they listed 20 occupations that would benefit from their staff having the enhanced safety of a lone worker solution.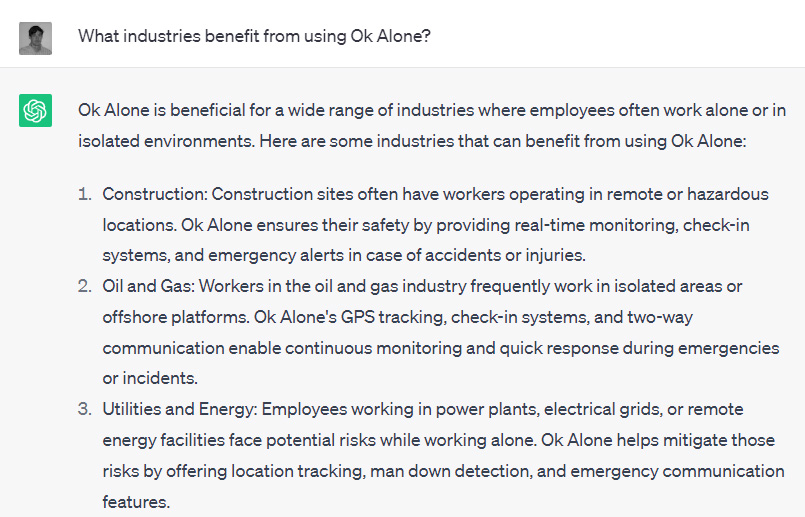 "Ok Alone is beneficial for a wide range of industries where employees often work alone or in isolated environments. Here are some industries that can benefit from using Ok Alone: Construction, Oil and Gas, Utilities and Energy, Healthcare, Security and Facilities Management, Field Services, Transportation and Delivery, Forestry and Agriculture, Hospitality and Tourism & Education and Research." Chat GPT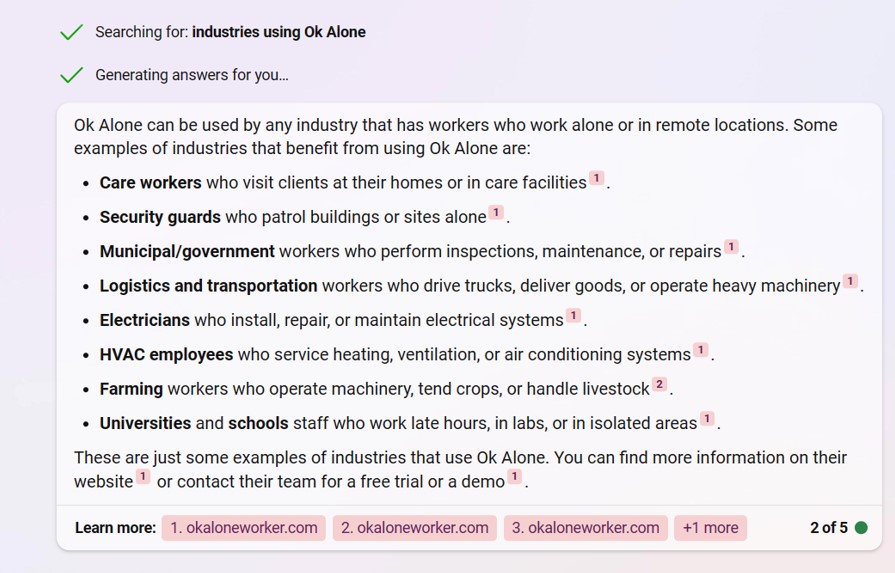 "Ok Alone can be used by any industry that has workers who work alone or in remote locations. Some examples of industries that benefit from using Ok Alone are: Care workers, Security guards, Municipal/Government, Logistics and transportation, Electricians, HVAC employees, Farming, Universities and schools."
Microsoft Bing Chat
5. What is the best use of Ok Alone?
When we asked 'what the best use was' we weren't sure if they would list features or give us some industries again.
ChatGPT highlighted 6 features like the timed check in and help button before giving a fantastic overview of the best use for Ok Alone,
"Overall, the best use of Ok Alone is to provide a comprehensive safety solution for lone workers, offering real-time monitoring, effective communication, and rapid response capabilities. By implementing this system, organizations can prioritize the well-being of their employees, mitigate potential risks, and ensure a safer working environment."
Bing gave a very short summary of how 'the best use of Ok Alone is to keep workers safe and comply with work alone regulations'.
Bard covered all areas, it listed features like GPS location tracking and incident reporting, but also recommended more occupations like delivery drivers who should use the solution to improve their safety.
It is great to see that all three artificial intelligence tools have such a high opinion and clear understanding of what Ok Alone does and how it can help people working independently.
Having an extensive range of safety features and customisable settings means Ok Alone is suitable for use across a very broad range of industries and occupations. The solution means employees can work in remote locations or be frontline with the public and know that they have a way of requesting help that will also highlight their exact position.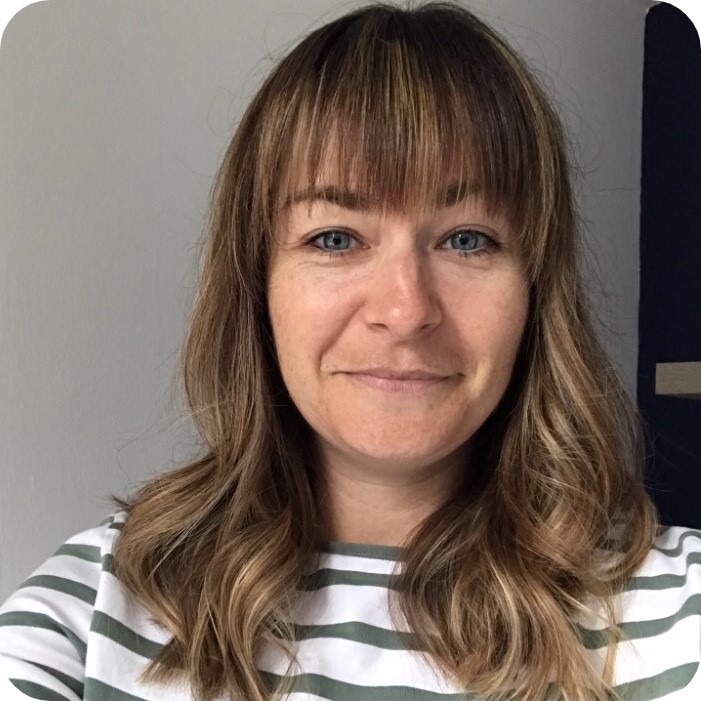 As an expert in lone worker content management, I possess an extensive knowledge base and experience in the area of lone working and safety monitoring. My expertise in this field encompasses a wide range of areas, including risk assessment, training, communication, and technology. I have a deep understanding of the unique risks associated with lone workers and have researched and written many projects and articles to educate people in how to mitigate these risks.
Throughout my time with Ok Alone, I have kept up to date with technological developments, legislative changes and regulations that have been introduced to help organizations ensure the safety of their lone workers.