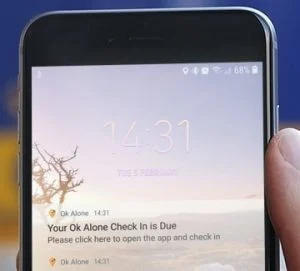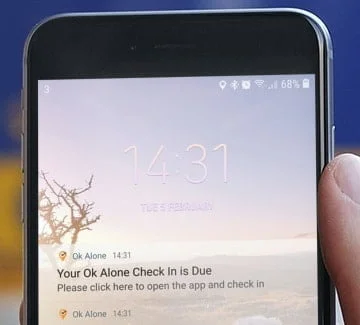 1. App Notifications & Alarms
When a check in is due the worker will get an in app notification (with an alarm) asking them to check in . This feature is easy to setup and allows a worker to check-in before their monitors are alerted.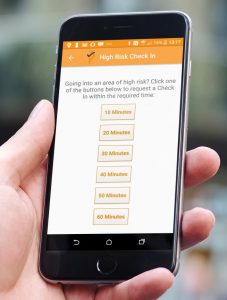 2. High Risk Check -ins
Being able to change the time between check in's if you are going into a situation you deem high risk is important. The Ok Alone app gives the worker the choice for their next, shorter check-in time. They can select the appropriate time in 10-minute increments. Once the shortened cycle is complete, the system resets to the normal check-in frequency.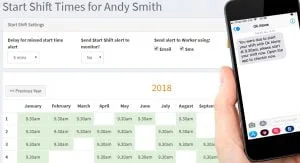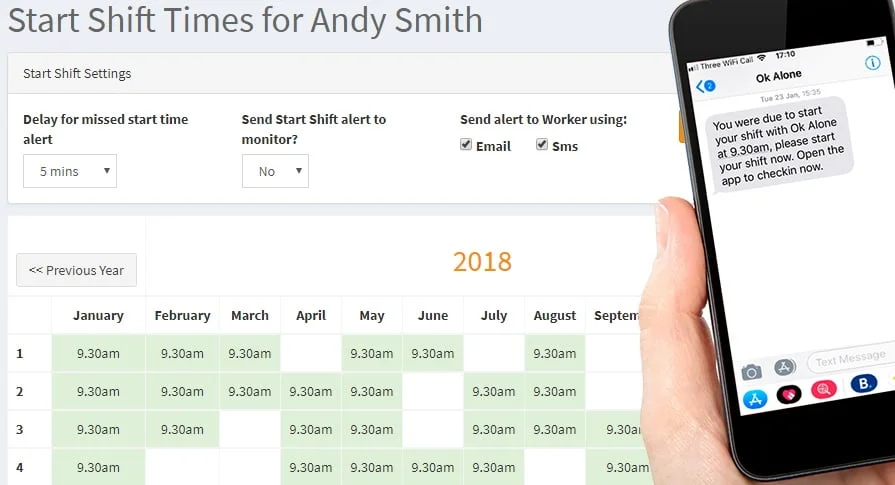 3. Start Shift Reminder
Simply set the shift start time using our simple interface. If the shift start is missed then the worker will get an SMS, email or phone call reminding them to use Ok Alone.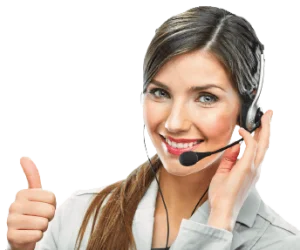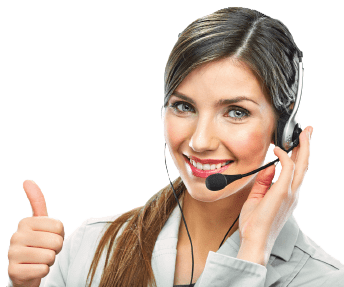 4. Live Monitoring
There are times when your managers are available to monitor the safety of your team. Typically, this would be during normal working hours. However, on evenings and weekends that same cover may not be available. Ok Alone gives you the choice of when you use its 24/7 live monitoring and when to use your own people. This means you aren't locked into expensive contracts that overestimate your actual need. It's as easy as the flick of a switch to turn it on or off.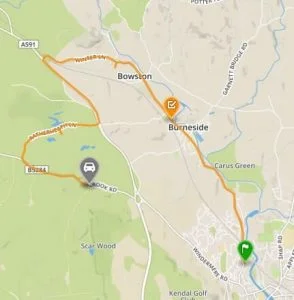 5.GPS Worker Monitoring
Ok Alone's lone worker app provides GPS monitoring that can give a worker's real time location in an emergency. There are a couple of options, with GPS Full the app uses your phone's GPS to provide the most accurate location. Any app that drains the charge on your battery is not going to help keep you safe! Ok Alone offers a battery saver mode for location monitoring that won't use all of your charge.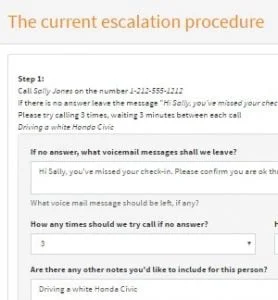 6. Escalation Procedure Wizard
It's not always easy to remember all of the details you may need in the event of an emergency. That's why Ok Alone developed a handy tool to help you design more robust escalation procedures. By simply following a few quick steps, you can create safety procedures that are complete and will be followed every time.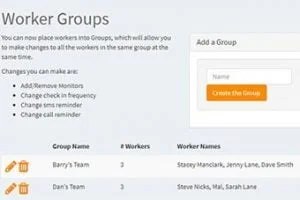 7. Worker Grouping
Group workers together by department, team, shift or any way you want. Once in a group you can easily update any instructions or details, which will automatically make changes to all the workers within that group at the same time.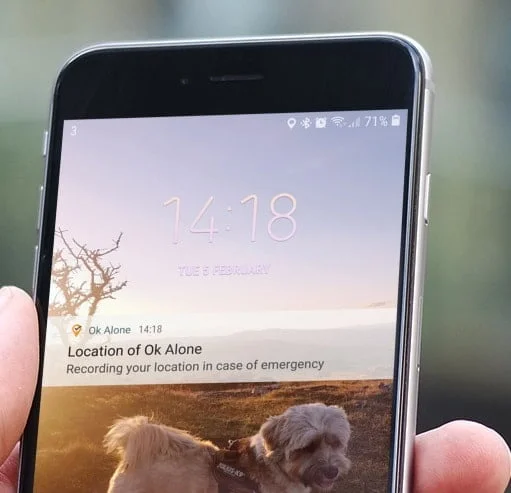 8. App Background Mode
Ok Alone is an app that doesn't need to be 'open' to work. The app's feature background mode means the solution is running without it having to be constantly on the screen.
9. Real Time Status Reporting
Ok Alone allows you to assign one or more monitors to each worker. A typical example is a customer who uses Ok Alone's 24/7 live monitoring service, but they want their managers to be made aware when something happens, so they make them monitors too. As soon as a check-in is missed, or a Help alarm sent, it appears on the Alerts page. You will see who has been sent a message about the issue, whether they have acknowledged it, and if it is resolved. This insight is very helpful when determining the next appropriate action.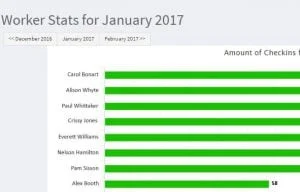 10. Free Updates and Reports
Apparently some suppliers try to charge you to update the system or send you performance reports and logs. Ok Alone doesn't do that. Your monitors can log in and add/remove workers, change email addresses and phone numbers or see the latest logs and statistics, all free of charge.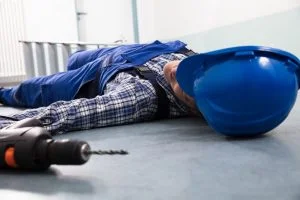 Bonus. Man Down Protection
Our Man Down feature helps keep your lone workers even safer. The man down feature in the smartphone app monitors a lone worker's movement. If no movement is detected the man down system will sound an alarm alerting the worker that there has been no movement. If this alert is not responded to by the lone worker, then the man down alert will be escalated to the monitor.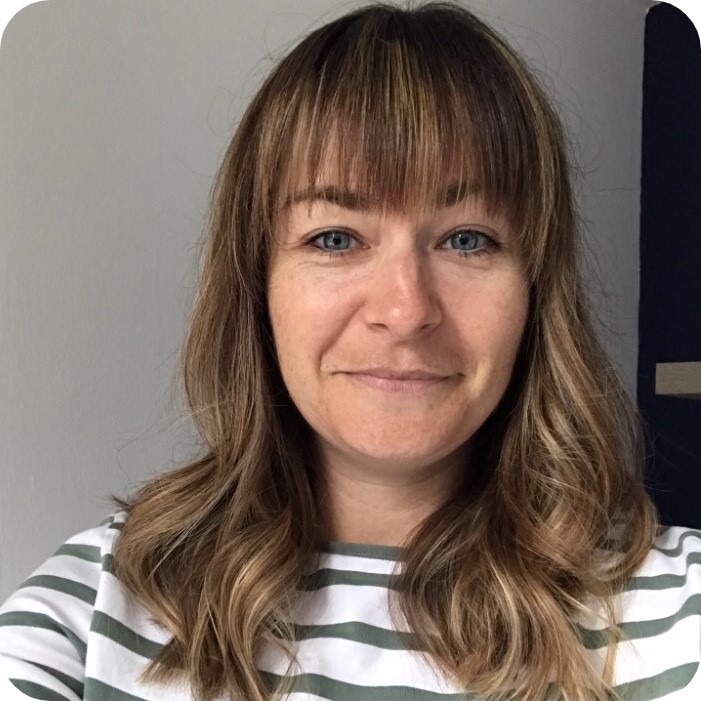 As an expert in lone worker content management, I possess an extensive knowledge base and experience in the area of lone working and safety monitoring. My expertise in this field encompasses a wide range of areas, including risk assessment, training, communication, and technology. I have a deep understanding of the unique risks associated with lone workers and have researched and written many projects and articles to educate people in how to mitigate these risks.
Throughout my time with Ok Alone, I have kept up to date with technological developments, legislative changes and regulations that have been introduced to help organizations ensure the safety of their lone workers.