The nightly news recently reported there are more people employed as drivers in Canada than any other job. Many of those drivers are women, and they are driving alone. Work alone is often thought about as a separate issue, but it is often coupled by assault and violence. As a result, we've compiled a list of simple things you can do to help avoid becoming a victim of violence and aggravation while driving alone on company business. While this list is intended primarily for women drivers, many of the points are equally suited to male drivers too.
So next time you are driving alone
Think about where and how you park your vehicle. When possible, park near the exit in a car park, or park in a well-lit area if it will be dark when you return. Point your vehicle in the direction you'll want to leave so that you can quickly drive away if necessary.
Always approach your car with the key in your hand.
Always check the back seat of your car before getting in.
Carry a loud alarm, preferably a torch alarm, handy in your pocket.
Never leave anything that is (or appears to be) valuable on display – this may include a jacket, a box or a bag, etc. If you must leave them, lock them out of sight, such as in the boot.
Do not respond to other people's bad or aggressive driving – several fights have started this way.
If you have a minor accident, be aware of the risks in getting out of your vehicle, particularly if the other person is showing signs of anger.
Open the window a crack and make the other person come to you.
Keep your temper and try to persuade them to keep theirs.
Keep your doors locked and your windows up when in any built up area.
Always lock your doors while paying for fuel especially at a large petrol station.
Carry a map so you do not have to stop to ask directions (even if you have Sat Nav, it can fail).
If (you think) someone is following you, do not lead them to your house. Instead, drive to a crowded place or to a police station.
Make sure your car is in good working order (keep it serviced and maintained) with enough fuel for the journey.
Consider the need for carrying spare fuel so that you do not get stranded.
If your car starts to splutter or sounds unhealthy, drive to a garage or to the nearest telephone on the motorway. Do not "limp" on until it dies (potentially) in the middle of nowhere.
If you do break down, try to decide whether to lock yourself in and wait for help.
If you do breakdown on a motorway, remember that the hard shoulder is a dangerous place. You're more likely to be injured sitting in your car than attacked sitting at the top of the bank waiting for your breakdown service.
If, as a woman driver, you have broken down and a man approaches offering to help, wind your window down a crack and politely say "Thank you, my husband is on his way".
If someone tries to flag you down, don't stop, but report the incident to the police in case it's a genuine emergency.
Try to be as anonymous as possible with your car.
Don't provide a potential rapist with an introduction line by putting stickers all over the car.
Let people know where you're going and what time you expect to arrive, then if you don't arrive they will come looking for you.
Some car alarms can be fitted with a personal attack button.
————————-
This article was adapted from a blog written by Michael Ellerby of LRB Consulting Ltd based in Loughborough, England and used with permission. Established in 2000, LRB Consulting provides Health and Safety Solutions. It's an independent, professional and friendly health and safety consultancy led by Michael Ellerby. Michael is a highly respected Chartered Safety Practitioner as well as being a Chartered Chemist, and listed on the Occupational Safety and Health Consultants Register – OSHCR. He is a widely experienced Health & Safety Consultant and has worked for many years in this field, both as a consultant in industry and alongside his consultancy team.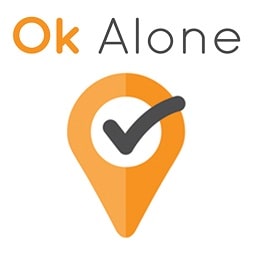 The Ok Alone team writes informative articles about lone working. Through our articles, we aim to educate readers on the benefits and best practices of using our lone worker app, and how Ok Alone can help mitigate risks and enhance communication between workers and monitors.  Learn about other areas including legislation, risk management, and legal compliance plus lone worker features such as man down, high-risk check ins and location monitoring.