What has been done in the US over the last ten years to improve safety monitoring by the construction industry? The answer, it seems, is 'not enough'.
Looking at the Bureau of Labor Statistics (BLS) National Census of Fatal Occupation Injuries from 2012 to 2021 makes for some pretty grim reading.
Construction fatalities for the last decade
Looking at the statistics ten years ago, construction accounted for the highest number of fatal work injuries of any industry sector in 2012. With an increase of 5% from the previous year, there were 775 fatal work injuries in the private construction sector in 2012.¹
Although overall construction fatalities were down 36 percent since 2006 (1,258 in 2006!)², the 796 fatal work injuries in construction, nevertheless, accounted for the highest number of fatal work injuries of any industry sector, again, in 2013.³
The most recent data accessible is from 2021. As the classification systems and definitions of many data elements used by the BLS have changed throughout the past decade, Construction is now grouped with Extraction workers. Construction and extraction occupations had the second most occupational deaths (951) in 2021 (being beaten by Transportation). Looking at the smaller sub-sections of occupation there were 726 Construction worker fatalities in 2021.⁴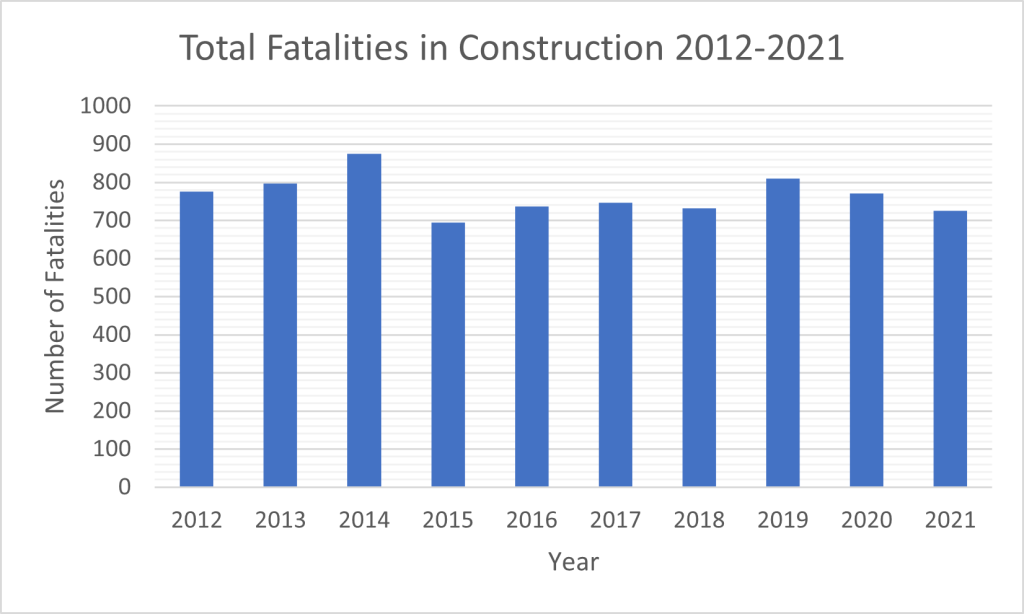 So, we can see from 2012 until 2021 there was a minimal change in the overall figures despite the industry's knowledge of their safety problem.
In the United States, there have been several initiatives and regulations put in place in the last ten years in an attempt to improve safety monitoring in the construction industry.
OSHA Standards Specific to the Construction Industry
The Occupational Safety and Health Administration (OSHA) has issued several new standards and updates to existing standards in recent years to improve safety in the construction industry. These include new regulations for fall protection, scaffolding, and cranes, as well as updated regulations for personal protective equipment and hazard communication.
Standards aimed specifically at the Construction industry include:
Fall Protection – General Requirements (1926.501)
Scaffolding (1926.451)
Ladders (1926.1053)
Fall Protection – Training (1926.503)
Eye and Face Protection (1926.102)
General Safety and Health Provisions (1926.20)
Head Protection (1926.100)
Specific Excavation Requirements (1926.651)
Hazard Communication (1910.1200)
Fall Protection – Systems Criteria and Practices (1926.502)
Cranes and Derricks in Construction (1926 Subpart CC)
Training Programs Developed by OSHA
OSHA and other organizations have developed and promoted training programs to help employers and workers understand and comply with safety regulations. The OSHA Outreach Training Program, for example, provides 10 and 30-hour training courses for construction workers and supervisors. OSHA are consistently creating documents to help businesses increase their safety programs and cultures effectiveness.
In 2016 OSHA created the 40 page document 'Recommended Practices for Safety & Health Programs in Construction' that has a detailed and comprehensive nine step plan on how to create a safety program to reduce accidents. They even supplied additional resources such as articles and information sources related to each core element of the recommended practices, plus other topics discussed in the recommended practices. As well as downloadable templates, worksheets, and reference materials that could be used to develop a safety and health program.
Emphasis Programs Aimed at High-Hazard Activities within Construction
OSHA has also established an Emphasis Program for construction that targets high-hazard construction activities and employers with high injury and illness rates. Through this program, OSHA conducts inspections, provides outreach and education, and partners with other organizations to improve safety in the industry.
Unfortunately, site inspections is one area where OSHA falls down. There are only 1,719 inspectors (755 federal and 964 state) to inspect the 10.4 million workplaces under the Occupational Safety and Health Act's jurisdiction. This equates to one inspector for every 81,427 workers.⁵ These are not figures that can help support safer workplaces.
No Change on the Horizon
However, none of the efforts of others seem to be making a difference to the overall mentality of those in the construction industry. According to OSHA the Top 10 Most Frequently Cited Standards are:
Every single citation relates to the construction industry.
The Importance of Employee Safety Monitoring
Other than the blatantly obvious safety precautions construction sites should be taking, like harnesses, lifelines, having three points of contact, securing ladders and inspecting equipment before use, to name a few, they should supply their employees with an employee monitoring system.
A safety monitoring system cannot stop an employee from falling from height or being crushed, but it can drastically reduce the time frame in which they are found and help sent for. Having an employee safety monitoring app that has a Man (worker) down feature can alert supervisors to an accident within three minutes. If the worker is able to tap their screen or speak, then sending that alert and their position can be immediate.
One way it does this is through having real time GPS locations for all staff who are on shift. This information is visible to management on maps that are accessible on the cloud-based dashboard. These details are vital for reaching staff as quickly as possible in an emergency situation and improving safety monitoring in construction.
1 – National Census of Fatal Occupational Injuries in 2012 (Preliminary Results), Bureau of Labor Statistics, US Department of Labor
2 – Fatal Workplace Injuries in 2006, Bureau of Labor Statistics, US Department of Labor
3 – National Census of Fatal Occupational Injuries in 2012 (Preliminary Results), Bureau of Labor Statistics, US Department of Labor
4 – Census of Fatal Occupational Injuries Summary, 2021, Bureau of Labor Statistics, US Department of Labor https://www.bls.gov/news.release/cfoi.nr0.htm
5 – https://aflcio.org/reports/death-job-toll-neglect-2022
6 – https://www.osha.gov/top10citedstandards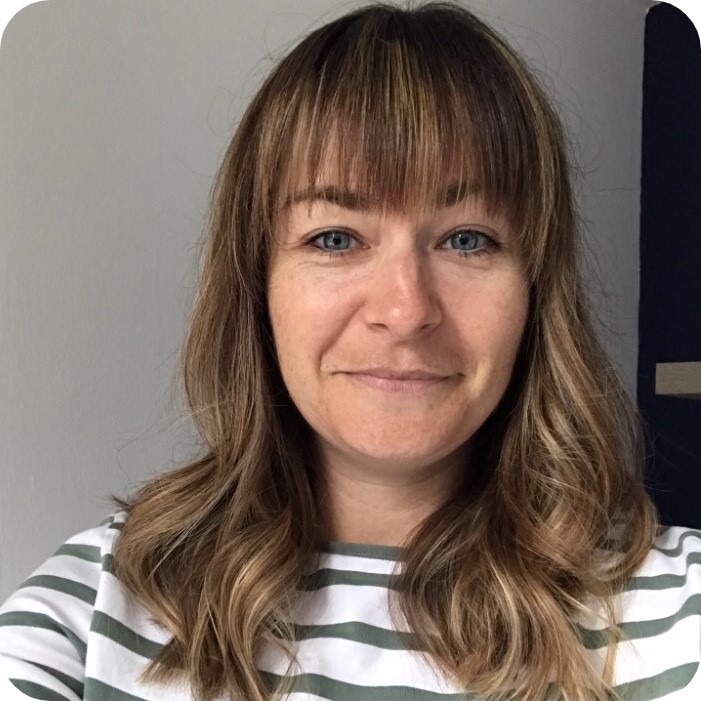 As an expert in lone worker content management, I possess an extensive knowledge base and experience in the area of lone working and safety monitoring. My expertise in this field encompasses a wide range of areas, including risk assessment, training, communication, and technology. I have a deep understanding of the unique risks associated with lone workers and have researched and written many projects and articles to educate people in how to mitigate these risks.
Throughout my time with Ok Alone, I have kept up to date with technological developments, legislative changes and regulations that have been introduced to help organizations ensure the safety of their lone workers.