What is COR?
The Certificate of Recognition (COR) is a certification program in Canada that evaluates employers' occupational health and safety management system and recognizes those who are proactive about workplace safety.[1] In the past, COR has predominantly been in the construction industry, however, many provinces have expanded to other industries.
Why Get COR?
Competitive Advantage:
Attract and retain talent
Win more work contracts
Improve overall safety culture
Increase employee morale while mitigating health and safety risks
Financial Savings:
Rebates on your base insurance assessment rate (exact rebate amount depends on province)[2]
Lower assessment rates due to lower experience ratings[3]
Show Compliance
Provide immediate proof of adherence to occupational health and safety regulations
What is the Process to Get COR?
There are 4 players involved in obtaining a COR: employers & workers, compensation boards (WCB), certifying partners, and auditors. Here are the steps to getting a COR[4]:
Local WCB – guides the employer to the appropriate Certifying Partner
Certifying Partner – provides the employer with COR qualification information
Employer – attend training (if required) and develop/modify their safety management system
Auditor – review the employer's safety management system. External safety auditors are listed on the certifying partner's website.
Certifying Partner – conducts audit for quality assurance
Local WCB – verify employer details and award COR if audit is passed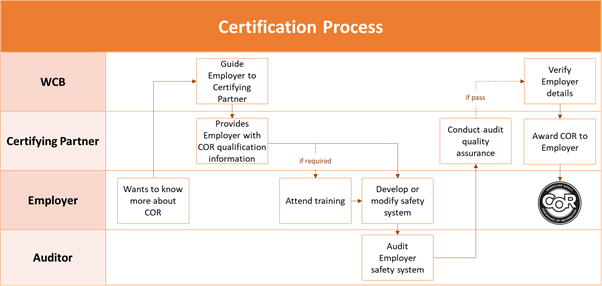 Industry Requirements – Depending on the industry, a health and safety audit can have different requirements and expectations. As it is the certifying partner that conducts audit quality assurance, it is important to find one that aligns with your organization. If there is no certifying partner for your industry, contact your local WCB and they will align you with an existing certifying partner in a related industry sector.
Maintaining COR – If employers are successful during the initial audit for certification, a COR is awarded and valid for three years. Prior to the end of year one and two, employers will have to complete a maintenance audit to show continued commitment to safety. At the end of year three, a re-certification audit must be completed. If the re-certification is successful, employers are awarded COR for another three years.
How Ok Alone Can Help
Employers are evaluated for COR based on their health and safety system. A health and safety system is not just a handbook of safety procedures – worker engagement, management commitment, and an organizational safety culture are also essential to the success of an safety system. There are multiple components to a health and safety system and it involves incorporating safety into all business processes.
One of the most common reasons why employers fail COR is lack of worker and management buy-in. Ok Alone uses gamification and safety awards to improve engagement and provide positive safety feedback[5]. Gamification allows Ok Alone to take a unique approach to worker engagement and help organizations achieve their safety goals.
With engaged workers, safety at work is easy. Ok Alone provides the tools necessary to transform lone-working safety programs. App based check-ins, man-down, panic button, and a variety of other features help lone workers stay connected. Digitization of a lone worker safety program makes safe work procedures dynamic and scalable. Through Ok Alone's audit trails, incident investigation, hazard identification, and risk management can be completed quickly and accurately. With an additional channel of communication, lone workers can feel protected throughout their workday.
For more information on COR in different provinces click the name below[6]:
Northwest Territories & Nunavut
---
[1] https://www.worksafebc.com/en/health-safety/create-manage/certificate-recognition
[2] https://awcbc.org/wp-content/uploads/2013/12/Experience_Rating.pdf
[3] https://www.worksafebc.com/en/insurance/know-coverage-costs/reduce-premiums
[4] https://www.worksafebc.com/en/resources/health-safety/books-guides/certificate-recognition-cor-standards-guidelines?lang=en
[5] https://www.okaloneworker.com/2020/06/gamification-for-increasing-engagement/
[6] Unlisted provinces/territories do not participate in COR