Ok Alone Popular Features
We often get asked about Ok Alone's best features. So we asked our customers what they liked best about the system. Here are their top choices.
You can now group workers together by department, team, shift or anyway you want. Once in a group you can easily update the team, including:
Check in frequency
Sms check in alerts
Phone check in alerts
Team monitors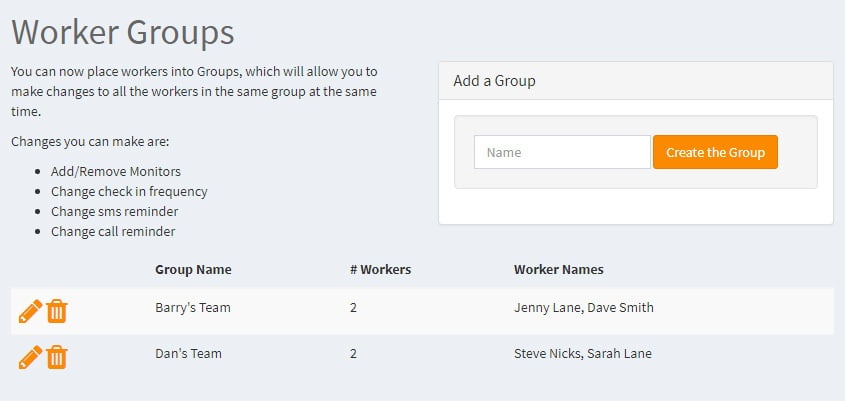 We have now introduced start shift alerts for workers. Simply set their shift start time using our simple interface and if they miss this start shift time, then they will get an sms and email reminding them to use Ok Alone.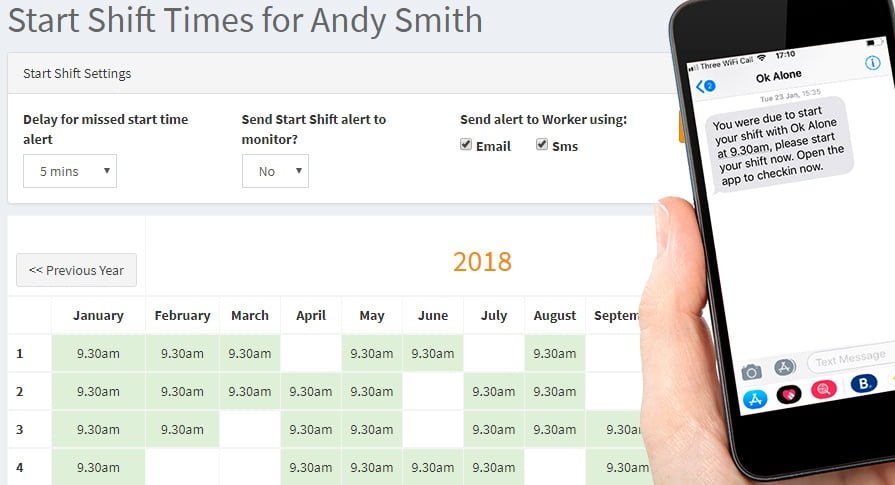 New – Check In Sms and Phone alerts
As well as being alerted in the app, you can now alert you worker to check in by sms and a phone call. This feature is simple to setup and if they miss their check in, you can prompt them with a simple sms or phone call before the monitors are alerted.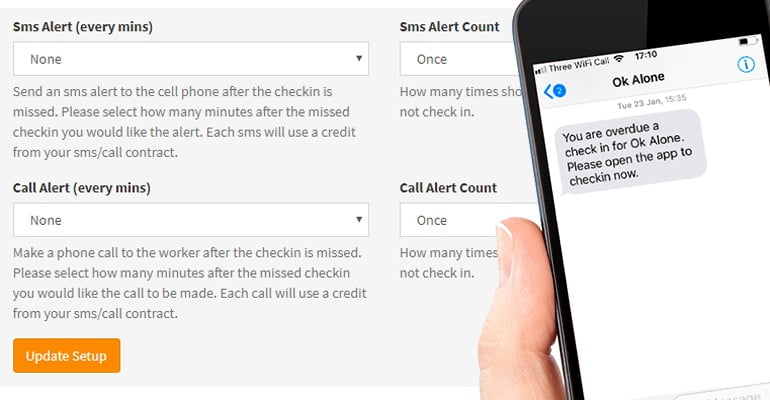 Real time status reporting
Ok Alone allows you to assign one or more monitors to each worker. A typical example is a customer who uses Ok Alone's 24/7 live monitoring service, but they want their managers to be made aware when something happens, so they make them monitors too.
As soon as a check-in is missed, or a Help alarm sent, it appears on the Alerts page. You will see who has been sent a message about the issue, whether they have acknowledged it, and if it is resolved. This insight is very helpful when determining the next appropriate action.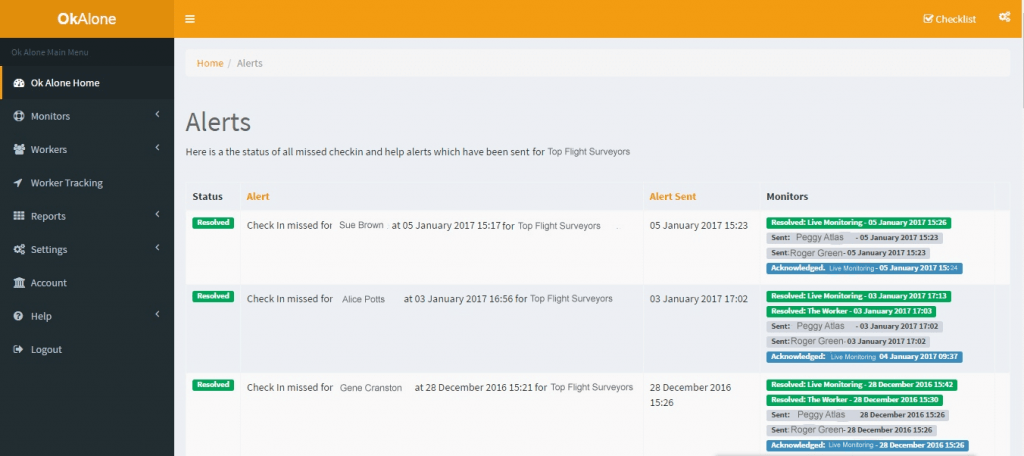 In most cases it's the safety team who want to set the check-in frequency based on the risk assessment they have completed for each worker. However, there are cases when the worker is entering a high risk situation and they want the assurance of shortening their next check-in time themselves.
The Ok Alone app gives the worker the choice for their next, shorter check-in time. They can select the appropriate time in 10 minute increments. Once the shortened cycle is complete, the system resets to the normal check-in frequency.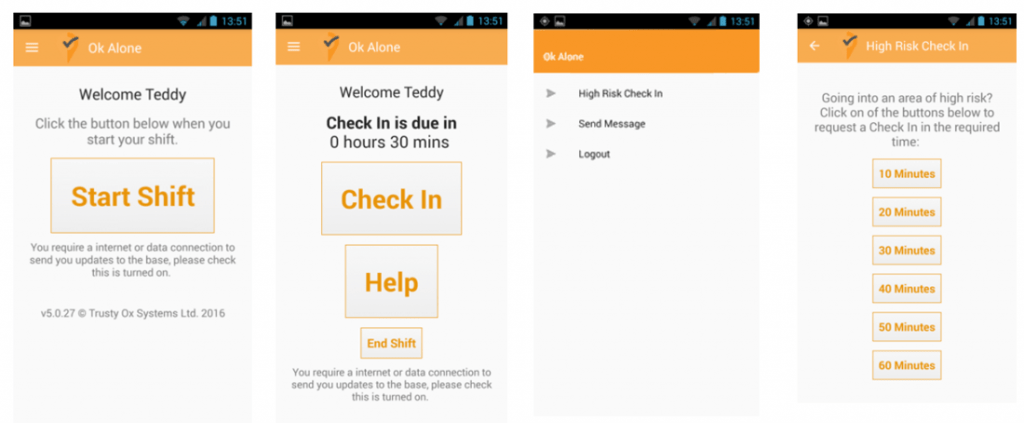 Control over live monitoring costs
There are times when your managers are available to monitor the safety of your team. Typically, this would be during normal working hours. However on evenings and weekends that same cover may not be available.
Ok Alone gives you the choice of when you use its 24/7 live monitoring and when to use your own people. This means you aren't locked into expensive contracts that overestimate your actual need. It's as easy as a flick of a switch to turn it on or off.

Escalation procedure wizard
It's not always easy to remember all of the details you may need in the event of an emergency. That's why Ok Alone developed a handy tool to help you design more robust escalation procedures. By simply following a few quick steps, you can create safety policies that are complete and will be followed every time.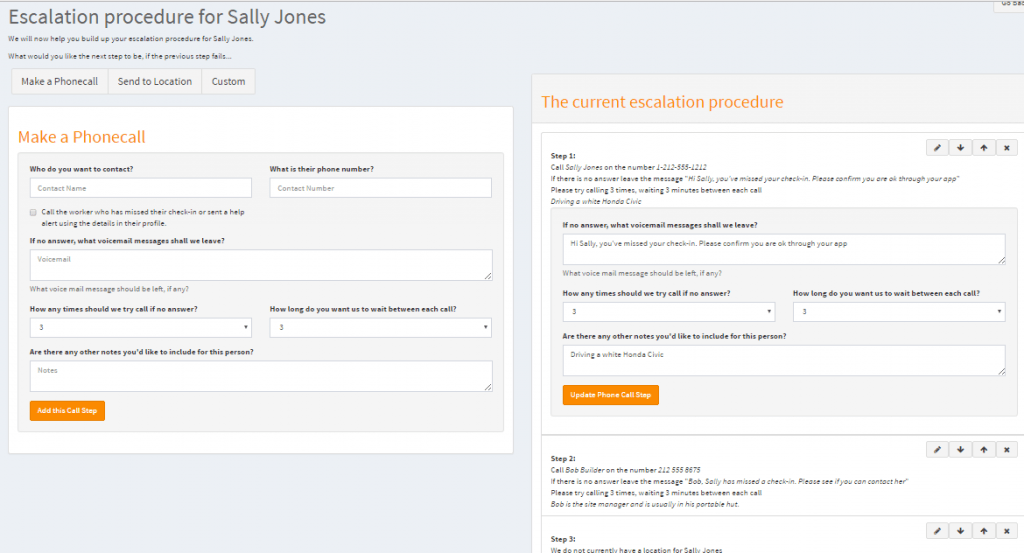 This seemed like an odd thing for customers to like, but apparently some suppliers try to charge you to update the system or send you performance reports and logs.
Ok Alone doesn't do that. Your monitors can login and add/remove workers, change email address and phone numbers or see the latest logs and statics, all free of charge.