Lone Worker Safety Systems
As we bundle up and head into the winter months (in the northern hemisphere) our thoughts turn to keeping workers safe in cold conditions by using lone worker safety systems. For most of us in Canada, extreme cold is something we deal with every year, and we are pretty good at it!
Those whose job requires them to be outside for any length of time, or who travel during their workday, must take extra safety measures in sub-zero weather. Here are a few work safety tips for cold winter weather:
Dress for the conditions to avoid hypothermia or frostbite
A layering system works best; start at the skin with a wicking layer, then an insulating layer and finally a water/windproof layer to stay warm and dry.
Avoid cotton – once it gets wet, it stays wet and draws warmth from your body. Look for fabrics that retain warmth when wet like wool, polyester fleece, and polypropylene. Have extra clothing with you in case you need to add a layer or change clothes.
Keep your head warm with a toque, beanie or a balaclava, which will protect exposed skin and also fits nicely under a hardhat.
Two layers of socks (a thin synthetic under heavier wool), appropriate boots and gaiters will keep your feet warm and dry.
Mitts keep your fingers warm better than gloves, but aren't always practical. You might consider wearing a pair of gloves under your mitts, removing a layer for precision work.
Fuel up and stay hydrated
You will burn more calories working in the cold, so eat regular meals and frequent snacks to keep your energy levels up.
Hydration is as important in cold weather as it is during heat waves and dehydration can cause muscle cramps, dizziness, heart palpitations and confusion. Consume hot drinks (but avoid excessive caffeine) and use insulated water bottles so that your water doesn't freeze readily. Sports drinks can provide needed calories and electrolytes.
Take precautions when dealing with snow and ice
Whether you are driving on roads and highways, operating equipment at a job site or just moving around outside in winter conditions, go slow and give extra space to prevent accidents.
Use a lone worker protection system that provides a means to call for help and requires regular check-ins.
Invest in Ok Alone for easy-to-use, no-fuss lone worker safety systems
We offer lone worker monitoring that's simple to implement and easy to learn. Workers can simply download the app to their iPhone or Android device – no extra equipment required. For those working outside of cell phone range, they can check in using a landline or satellite devices.
Contact us today to discuss which services will best suit your needs.
Ok Alone also offers a free trial of our lone worker safety system.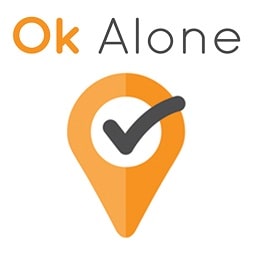 The Ok Alone team writes informative articles about lone working. Through our articles, we aim to educate readers on the benefits and best practices of using our lone worker app, and how Ok Alone can help mitigate risks and enhance communication between workers and monitors.  Learn about other areas including legislation, risk management, and legal compliance plus lone worker features such as man down, high-risk check ins and location monitoring.