Lone Worker Protection
for your Business with
a Smartphone App
Employers are learning more about lone worker protection and why it applies to their workforce. However, implementing lone worker protection can be complicated and expensive. Here at Ok Alone, we have created a system that has lower costs and still offers a high level of service.
Why you need lone worker protection
Different countries, provinces and states all have their own unique legislation and policies required to keep workers safe. In many countries such as Canada, the UK, USA, and many parts of Europe an employer has a legal duty and must provide some level of lone worker protection.
A lone worker is classified as someone who works by themselves without close or direct supervision, where they cannot be seen or heard by another person. If you employ lone workers, the next step is to equip them with a robust lone worker protection app to handle any risky situations lone employees may face while doing their jobs.
Are you ready to protect your employees?
You can protect your employees with a lone worker device that comes with all the required alarms and locating functions. A work alone app installed on a smartphone is the easiest way to do this.
A smartphone app and cloud-based dashboard means you can automate the whole process of lone worker safety. This removes the need for a supervisor to check on worker safety repeatedly throughout their shift, there is also no more need for paper or phone call-based systems.
Top 6 App Features for Lone Worker Protection
1. Location Monitoring with GPS
Ok Alone provides GPS tracking that can give a worker's real time location in an emergency. The app updates the location, even when in background mode, so mobile workers can keep in regular contact and are protected in their current environment.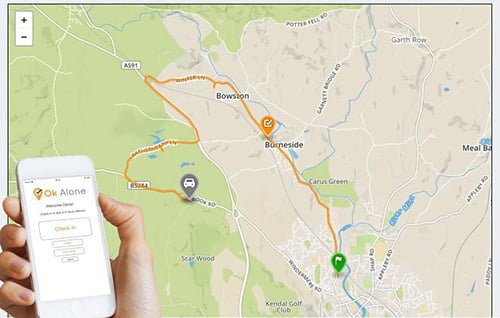 2. Panic Alarm Button for Emergencies
Our "Panic Button" function enables the worker to request immediate help in case of an emergency. It is simple to activate and can also be activated using voice commands. If an alert is sent out, all monitors will be contacted using our automated monitoring system or by our 24/7 control center.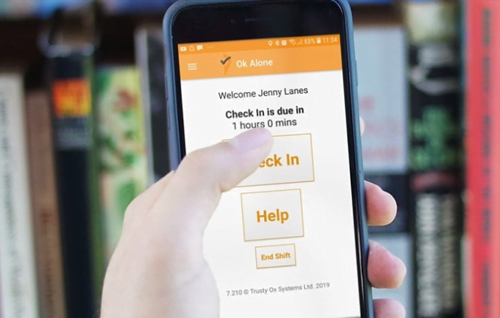 3. Cloud-Based Dashboard for Complete Control
Our cloud-based dashboard puts the employer in complete control of mobile lone worker protection.  All the active statuses and locations can easily be seen in one place, including any employees that are in danger. The online dashboard also works on a range of devices, so employee safety can be monitored from anywhere.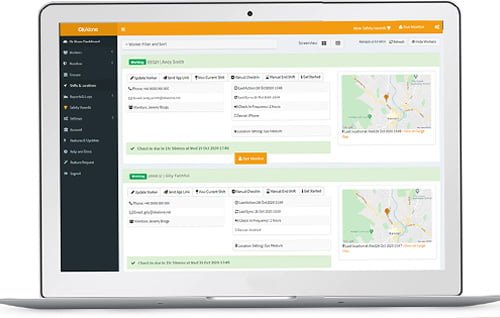 4. Count Down Timer to keep Workers Safe
Ok Alone has a flexible count down timer that can be set for different periods of time, depending on the situation. Workers can also reduce the check-in time when they go into an area of high risk and require more protection. If a countdown timer is missed and the worker cannot be contacted, an automated alert is sent out to appointed escalation contacts.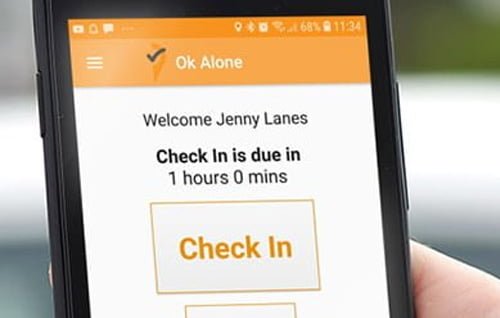 5. Lone Worker App for Employees
Our free smartphone app for iPhone and Android has a simple, clean design making it quick to deploy and easy to support. The app is an alternative to wearable panic buttons and uses phone processes and sensors to provide man down/worker down and location updates as well as a wide range of other features.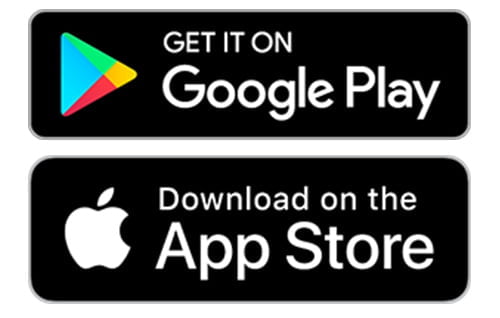 6. Safety Awards to Motivate your Workforce
Safety Awards are an engaging way to help workers improve their lone worker protection, through using the app. It allows workers to log their safe practises and compete with colleagues and companies across the world. At the end of each month a worker's usage is reviewed and certificates are awarded to top performers.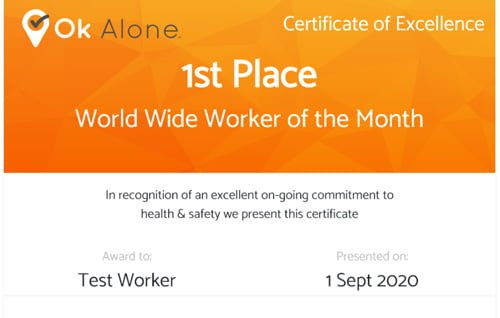 How to Protect your Lone Workers in 5 Simple Steps
We believe that worker protection should be easy to understand and deploy. Our app is so simple to use, that in the next 5 minutes, you could start your first shift and send a help request – all without reading an owner's manual or needing a "personalized demo" with a salesperson. 
Step 1: Start a free trial using the form below
To get started simply fill in the form below. This will start your free trial where you get full access to our lone worker solution with no credit card required. You will be able to use both the smartphone app and our cloud-based management dashboard.
Step 2: Login to your lone worker protection dashboard
Click the link after the form submission to go to your management dashboard. Here you can view all worker statuses, their precise location and monitor any alerts for an emergency situation. You can also add an extra worker to your organisation who may want to try the lone worker app.
Step 3: Download the smartphone app and enter your pin
Our app is available for both iPhone and Android and can be downloaded for free from the App stores. When you sign up you will be sent an sms with your unique pin number and a link to easily download the app which starts the lone worker protection. Once logged in you can start a shift – a check in timer will start counting down for a specified period of time.
Step 4: Send a help request
Press the Help panic button on the app to simulate a dangerous situation. Your remote location will be sent to Ok Alone and the monitor will be alerted via email and sms. Several monitors can be added for remote workers, they could be a security office, direct supervisor or anyone else in your company.
Step 5: Review and resolve the help alert
Monitors have a duty of care to protect their workers. If there are any alerts such as: a help alert, missed check in, man down/worker down alert, then information about the individual worker will appear on the cloud-based dashboard. This information includes their remote location, previous actions, any messages and data from their mobile device. The monitor can then follow the escalation procedure and resolve the alert.
Want a quote for Ok Alone? Please email us at [email protected] and we will send you a quote for our lone worker solution.