The workplace is evolving rapidly, and as a result, an increasing number of employees find themselves working alone in hazardous environments. This can be attributed to a variety of factors, including remote work arrangements, flexible schedules, and job requirements that entail visiting client sites or working in the field. While this type of work can offer individuals a greater degree of autonomy and flexibility, it also exposes them to unique safety hazards that need addressing.
Using a lone worker protection app to combat risk
To combat these risks and ensure the safety of lone workers, numerous organizations have adopted smartphone applications designed exclusively for lone worker protection. These apps enable employees to quickly and easily check in with their employer, activate an alarm in emergency situations, and provide their exact location in real-time.
How deploying an protection application can help
Deploying a lone worker protection application can provide peace of mind for both employers and employees, as they can rest assured that appropriate safety measures are in place and help is readily available when needed. On this page, we will delve into the critical features and advantages of lone worker protection apps, as well as guide you on how to get started with our lone worker protection solution.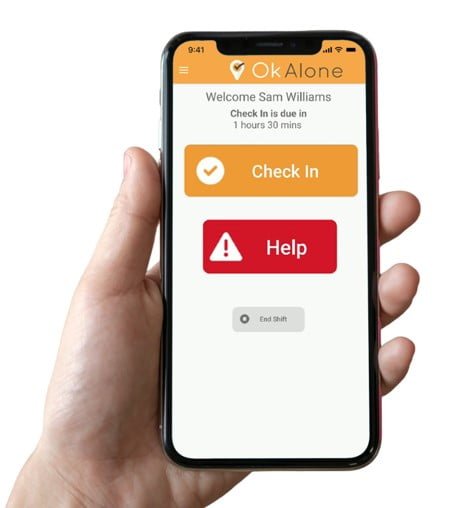 Why you need lone worker protection?
Different countries, provinces and states all have their own unique legislation and policies required to keep workers safe. In many countries such as Canada, the UK, USA, and many parts of Europe an employer has a legal duty and must provide some level of lone worker protection.
What is a lone worker?
A lone worker is classified as someone who works by themselves without close or direct supervision, where they cannot be seen or heard by another person. If you employ lone workers, the next step is to equip them with a robust lone worker protection app to handle any risky situations lone employees may face while doing their jobs.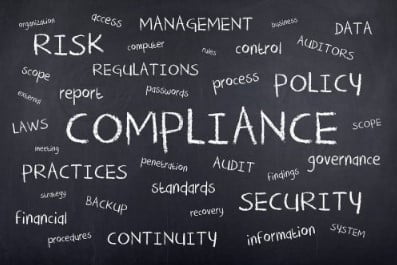 Are you ready to protect your employees?
You can protect your employees with a lone worker device that comes with all the required alarms and locating functions. A work alone app installed on a smartphone is the easiest way to do this.
A smartphone app and cloud-based dashboard means you can automate the whole process of lone worker safety. This removes the need for a supervisor to check on worker safety repeatedly throughout their shift, there is also no more need for paper or phone call-based systems.
Benefits of Using a Lone Worker Protection App
There are many reasons your company should start using a lone worker app, here are 10 benefits:

Improved Safety
Lone worker protection apps provide a range of features, including real-time GPS tracking and panic buttons, that help keep employees safe and secure when working alone.

Reduced Costs
By reducing the likelihood of accidents, injuries, and incidents, businesses can save money on insurance and compensation claims.

Peace of Mind
Employees who work alone can feel vulnerable and isolated. Using a lone worker protection app can provide peace of mind, knowing that help is always available if needed.

Incident Reporting
Lone worker protection apps allow employees to report incidents easily and quickly. This can help businesses identify potential risks and improve safety procedures.

Customizable Settings
Lone worker protection apps can be customized to meet the specific needs of each business and employee, providing a tailored solution to lone worker safety.

Increased Productivity
When employees feel safe and secure, they are more productive. Lone worker protection apps help reduce stress and anxiety, allowing employees to focus on their work.

Legal Compliance
Employers have a duty of care to protect their employees, and failure to do so can result in legal action. By using a lone worker protection app, businesses can ensure they are meeting their legal obligations.

Quick Access to Emergency Assistance
In the event of an incident or emergency, lone worker protection apps provide quick and easy access to emergency assistance.

Improved Communication
Lone worker protection apps provide two-way communication between employees and their supervisors, ensuring that any issues or concerns can be addressed quickly and efficiently.

Enhanced Reputation
By prioritizing the safety and well-being of their employees, businesses can enhance their reputation as a responsible and caring employer.
Top 6 App Features for Lone Worker Protection
Our lone worker protection app has been specifically designed to address the unique safety hazards that lone workers face. These vary across industries – but our features can be used in various situations and when combined correctly can make sure any lone worker has the full protection they need.
With these features and proper training, our lone worker protection app provide organizations with a comprehensive solution for ensuring the safety and well-being of their employees who work alone in potentially hazardous environments.
1. Location Monitoring with GPS
Ok Alone provides GPS tracking that can give a worker's real time location in an emergency. The app updates the location, even when in background mode, so mobile workers can keep in regular contact and are protected in their current environment.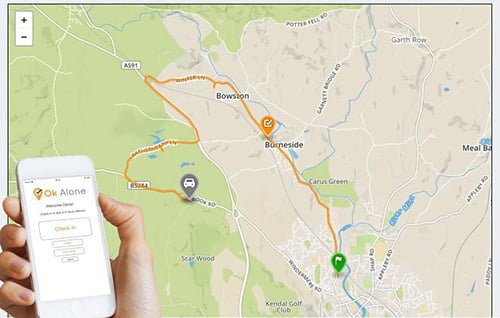 2. Panic Alarm Button for Emergencies
Our "Panic Button" function enables the worker to request immediate help in case of an emergency. It is simple to activate and can also be activated using voice commands. If an alert is sent out, all monitors will be contacted using our automated monitoring system or by our 24/7 control center.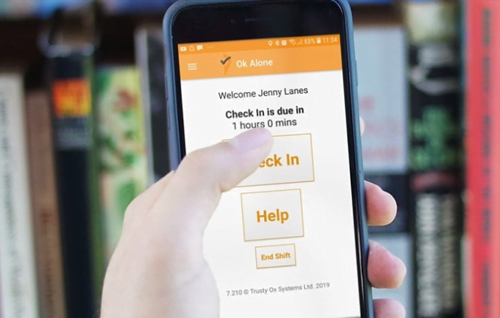 3. Cloud-Based Dashboard for Complete Control
Our cloud-based dashboard puts the employer in complete control of mobile lone worker protection.  All the active statuses and locations can easily be seen in one place, including any employees that are in danger. The online dashboard also works on a range of devices, so employee safety can be monitored from anywhere.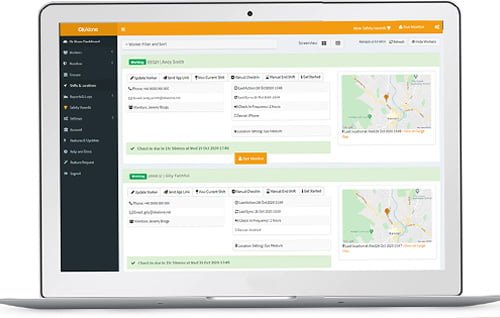 4. Count Down Timer to keep Workers Safe
Ok Alone has a flexible count down timer that can be set for different periods of time, depending on the situation. Workers can also reduce the check-in time when they go into an area of high risk and require more protection. If a countdown timer is missed and the worker cannot be contacted, an automated alert is sent out to appointed escalation contacts.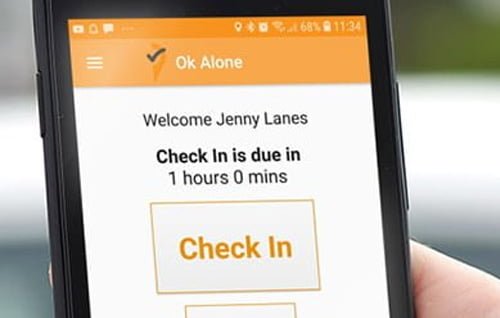 5. Lone Worker App for Employees
Our free smartphone app for iPhone and Android has a simple, clean design making it quick to deploy and easy to support. The app is an alternative to wearable panic buttons and uses phone processes and sensors to provide man down/worker down and location updates as well as a wide range of other features.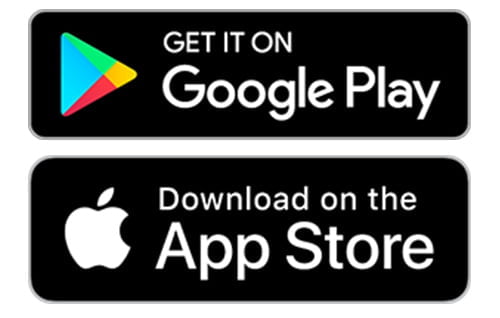 6. Safety Awards to Motivate your Workforce
Safety Awards are an engaging way to help workers improve their lone worker protection, through using the app. It allows workers to log their safe practises and compete with colleagues and companies across the world. At the end of each month a worker's usage is reviewed and certificates are awarded to top performers.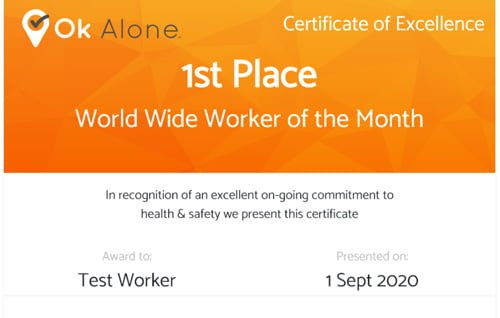 How to Protect your Lone Workers in 5 Simple Steps
We believe that worker protection should be easy to understand and deploy. Our app is so simple to use, that in the next 5 minutes, you could start your first shift and send a help request – all without reading an owner's manual or needing a "personalized demo" with a salesperson. 
Step 1: Start a free trial using the form below
To get started simply fill in the form below. This will start your free trial where you get full access to our lone worker solution with no credit card required. You will be able to use both the smartphone app and our cloud-based management dashboard.
Step 2: Login to your lone worker protection dashboard
Click the link after the form submission to go to your management dashboard. Here you can view all worker statuses, their precise location and monitor any alerts for an emergency situation. You can also add an extra worker to your organisation who may want to try the lone worker app.
Step 3: Download the smartphone app and enter your pin
Our app is available for both iPhone and Android and can be downloaded for free from the App stores. When you sign up you will be sent an sms with your unique pin number and a link to easily download the app which starts the lone worker protection. Once logged in you can start a shift – a check in timer will start counting down for a specified period of time.
Step 4: Send a help request
Press the Help panic button on the app to simulate a dangerous situation. Your remote location will be sent to Ok Alone and the monitor will be alerted via email and sms. Several monitors can be added for remote workers, they could be a security office, direct supervisor or anyone else in your company.
Step 5: Review and resolve the help alert
Monitors have a duty of care to protect their workers. If there are any alerts such as: a help alert, missed check in, man down/worker down alert, then information about the individual worker will appear on the cloud-based dashboard. This information includes their remote location, previous actions, any messages and data from their mobile device. The monitor can then follow the escalation procedure and resolve the alert.
Want a quote for Ok Alone? Please email us at [email protected] and we will send you a quote for our lone worker solution.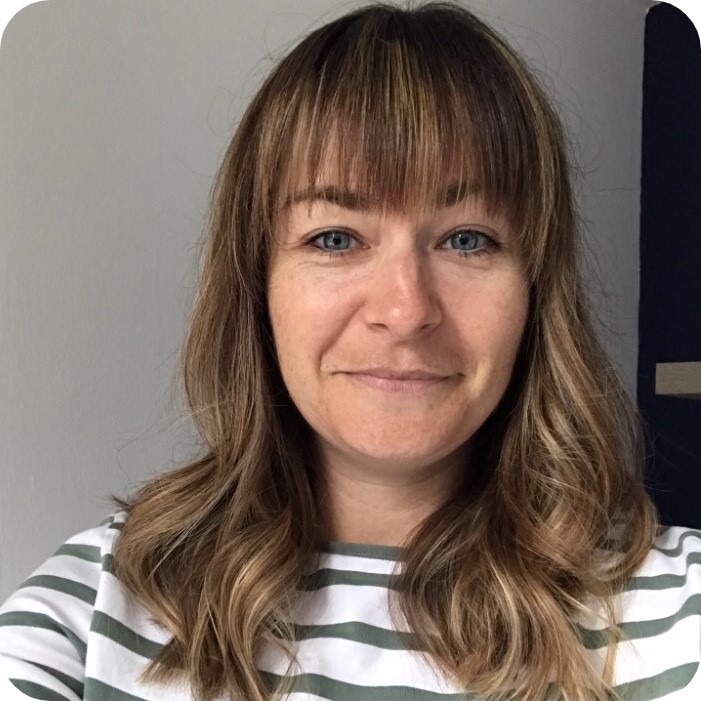 As an expert in lone worker content management, I possess an extensive knowledge base and experience in the area of lone working and safety monitoring. My expertise in this field encompasses a wide range of areas, including risk assessment, training, communication, and technology. I have a deep understanding of the unique risks associated with lone workers and have researched and written many projects and articles to educate people in how to mitigate these risks.
Throughout my time with Ok Alone, I have kept up to date with technological developments, legislative changes and regulations that have been introduced to help organizations ensure the safety of their lone workers.