Lone worker protection is a particular concern to many employers. This is especially relevant to resource extraction industries (mining, energy, forestry) along with trucking, surveying and home health care providers, where employees are at a higher risk of accident or incident when working alone. What do you, as an employer, need to consider when implementing a system for lone worker protection?
Dynamics affecting lone worker protection strategies:
The time factor – how long will your employee be alone and is it necessary for them to be alone at all? Can they work with a partner, or during business hours? What time of the day will they be alone and how long will it take them to complete the job?
The travel factor – will your lone worker be travelling to a remote destination or are they constantly on the road (truckers and salespeople)? Do they need emergency supplies like food, drinking water and a first aid kit? Will they be able to carry emergency supplies if they must leave the vehicle? For how long will they need to leave the vehicle?
The nature of the work – is it a high risk job and if so, is the employee adequately trained to handle emergency procedures? What sort of equipment are they using and are they properly trained to use it? Are fatigue or weather conditions factors, and has the lone worker been counselled on how to handle them?
Communications – it is essential that your lone worker can 'check in' with someone at regular intervals to report their safety and any incidents. The best possible way to ensure lone worker protection is by providing them with the best communication options available. You can achieve this by partnering with Ok Alone, we offer a modern, comprehensive and proven system to ensure worker protection. Our smartphone application even enables you to see a map online that shows where your worker is and has been since the start of their shift.
Get the best lone worker protection system from Ok Alone
We can help you keep your staff safe with our easy to implement and simple to use lone worker monitoring system. Cost conscious businesses don't need to skimp on safety. Ok Alone's monthly subscription starts at just $5.00/£4.00 per month per employee. With no set-up fees or long term contracts to sign, we can get your lone worker protection service up and running quickly. Ask us about a free trial.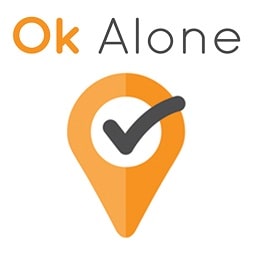 The Ok Alone team writes informative articles about lone working. Through our articles, we aim to educate readers on the benefits and best practices of using our lone worker app, and how Ok Alone can help mitigate risks and enhance communication between workers and monitors.  Learn about other areas including legislation, risk management, and legal compliance plus lone worker features such as man down, high-risk check ins and location monitoring.