Advanced, Easy to Implement Lone Worker Protection Technology is the Future for Mining Teams
Mining has benefited from new technologies, perhaps more than any other industry. Inherently high risk, thoughtful investment in lone worker protection tools has already improved health and safety issues across the industry.
Lone worker monitoring systems that provide quick incident response can save lives, at mining operations or other resource extraction sites. When workers in dangerous conditions are required to check in at regular intervals, it helps to keep safety top of mind.
Complacency can lead to disaster, and requiring mine security check-ins around the clock can prevent those 3 a.m. emergencies that sometimes crop up in the wee hours. Those who work overnight may not want to admit that their concentration can flag, but studies show an increased risk of occupational injury for night shift workers. The risk is linked to fatigue, less supervision and co-worker support. Give your lone worker the means to respond, and a method to help them stay alert during the graveyard shift.
Make lone worker safety a priority – the affordable way
With OK Alone's worker safety system, workers are prompted to think about safety constantly, with regular check in requirements. How often should they check in? That's up to you.
Our flexible system allows you to designate check in intervals as frequently as you like, from every 30 minutes or hourly, every two hours, three? It's up to you. Reminder alarms can be sent out as often as every 30 seconds, and a custom response determined for each situation as per your escalation procedure.
You might expect this level of service to be expensive, but it's not. In fact, you pay as little as $5/£4 per day, per worker. That's very reasonable, compared to other lone worker protection systems. In fact, we invite you to compare!
OK Alone also offers a free trial, so you can see how well it works for you. Contact us to learn more.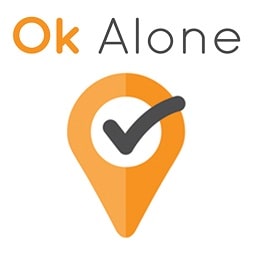 The Ok Alone team writes informative articles about lone working. Through our articles, we aim to educate readers on the benefits and best practices of using our lone worker app, and how Ok Alone can help mitigate risks and enhance communication between workers and monitors.  Learn about other areas including legislation, risk management, and legal compliance plus lone worker features such as man down, high-risk check ins and location monitoring.