Lone worker monitoring is the practice of monitoring workers who, due to their working conditions or the nature of their employment, may be out of sight or earshot of co-workers during the course or their workday. If no co-workers are nearby to offer assistance in an emergency, then a lone worker monitoring system should be in place.
Employees that benefit from a lone worker monitoring system include those in resource extraction (energy, mining, and forestry), trucking, environmental assessment, surveying, social work, maintenance, home-based health care providers and even certain retail workers.
There is legislation in the United Kingdom and in certain Canadian provinces that requires the adoption of lone worker monitoring and establishes methods of monitoring. Even where this legislation does not exist, there are laws that relate to the health and safety of employees, making it prudent to monitor them when they are facing potential risk.
What are some recommended methods of lone worker monitoring?
There are several methods of monitoring that are recommended and fall within legislation where it exists:
Call in to check in – This is a common practice, but it does require call centre services, which may be costly. Employees are asked to call in at specific intervals to report their location and wellbeing. Call in to check in is prone to human error and call device failure, if it's the sole method of contact.
Working in pairs – The buddy system has been used for centuries to provide support for workers. In theory, having workers paired will ensure that if one is incapacitated, the other would be able to call for help. The obvious flaw is that accidents can happen as easily to two as to one.
Monitoring devices – Dedicated monitoring devices are a modern and reliable method that can help to alleviate some of the previously mentioned issues.
The best option – A multi-faceted lone worker monitoring system that allows the worker to use a smartphone application, SMS, or live call-in options is flexible and practical.
The Ok Alone monitoring system
Ok Alone offers a comprehensive system providing your employees the best of these options. Using our iPhone or Android app, workers simply click the check-in button at predetermined intervals. If they fail to respond, Ok Alone checks on them.
Employees also have the option to text or call in on their cell phone, a landline, or a satellite enabled device. If they are not heard from within an established time frame, Ok Alone can manage the situation from its call centre or notify you directly according to your pre-set escalation procedure.
Ok Alone offers the lowest cost compared to similar lone worker monitoring systems
Our monthly subscription starts at just $5.00/£4.00 per month per employee. This fee includes your online account, smartphone apps, online help, action logs and performance reporting. Need live monitoring support too? You control when it's on or off, with no set-up fees, giving you the maximum savings possible. Contact us today to learn more.
Not sure if it will work for your business? How about a free trial?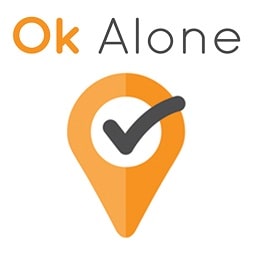 The Ok Alone team writes informative articles about lone working. Through our articles, we aim to educate readers on the benefits and best practices of using our lone worker app, and how Ok Alone can help mitigate risks and enhance communication between workers and monitors.  Learn about other areas including legislation, risk management, and legal compliance plus lone worker features such as man down, high-risk check ins and location monitoring.