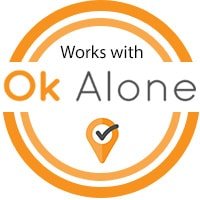 The Iridium GO! is the perfect device to use in partnership with Ok Alone to keep your lone workers connected.
What is the Iridium GO!
Iridium GO! provides global voice calling and text messaging solutions for your smartphone, as well as enhanced data capabilities offered through optimized apps to meet your unique needs.
How the Iridium GO! works with Ok Alone
The Iridium GO! can be used with Ok Alone to do the following:
Send an SOS signal to Ok Alone in case of emergency
Get check-in reminders via SMS or phone call
Send status updates via SMS including check-ins
Update your Ok Alone status by phone call
Send location tracking messages to Ok Alone
Learn more about Iridium GO! in this video:
Want to learn more about how to use your Iridium GO! with Ok Alone?
Please contact us at [email protected]
As a principal engineer with extensive industry experience for over 20 years, I offer a wide range of skills to help develop businesses online. With a proven track record in systems development, search engine optimization, online advertising, and marketing, I am passionate about developing and growing B2B, SaaS, and web-based products.
I specialize in lone worker solutions and have the ability to identify and implement suitable technologies for a wide range of projects. With Ok Alone, I've been instrumental in building the top-rated lone worker app, which provides protection for lone workers across industries worldwide. I'm a strong believer in the importance of the client-developer relationship and regularly seek customer feedback to help improve our systems.