Due to the isolated nature of their work, lone workers face unique challenges regarding health and safety. There are no colleagues around to watch their back, to lend a hand, or to intervene when their actions become unsafe. Instead, lone workers must rely on their own skills, knowledge and experience to carry out the job safely.
These specialized lone worker solutions don't just come from anywhere, of course. It's up to you to provide your lone workers with a unique training approach that's more extensive than the one you use for your in-house employees. And most importantly, you need to take an approach that enhances learning and encourages retention—one that sticks.
One of the best ways to train lone workers is to use experiential learning. This type of learning takes lone employees out of the office (an environment most lone workers aren't used to or comfortable with) and immerses them in real-life situations. By seeing and doing, lone workers will develop the confidence and instincts necessary to mitigate the risks associated with their job.
To get the most out of these experiences, don't overwhelm your employees and do too many scenarios at once. Instead, chat with your employees, find out which health-related hazards concern them the most, and focus on the most high-risk ones.
Here are some examples of how to use experiential learning to cover two of the most common types of risks lone workers face: Health/safety and violence/aggression.
 Work alone solutions for health and safety: First aid
All lone workers should be equipped with a safety device, such as a lone worker safety app, that will alert others in the event of an emergency. But even with this essential safeguard in place, there will always be a period of time before help arrives.
With no one but themselves to administer first aid, lone workers need to receive extensive training on how to deal with wounds, bleeding, fractures, burns, soft tissue injuries, and other aspects of self rescue. On top of it all, they also need to learn techniques and strategies for staying calm during an emergency situation. A basic first aid course is a great start, but to give workers the best tools possible, also consider enlisting the help of those who know best: police, firefighters, or other emergency responders. These professionals can simulate specific scenarios that will not only help workers further these essential skills, but also uncover any weaknesses in these areas and find ways to eliminate them. Workers will leave more prepared, more confident, and with a better awareness of safety in the workplace.
Work alone solutions for violence and aggression: Dealing with the public
Many lone workers, including sales representatives, home care nurses, and delivery drivers, spend a lot of time dealing with the public. Faced with unfamiliar people—in often unfamiliar environments—these workers are at a greater risk for violence or abuse.
To help your public-facing lone workers, you need to ensure they're equipped with the proper self-protection, de-escalation, and conflict management skills. But simply talking about these areas isn't enough! You need to recreate possible scenarios and provide them with a safe, immersive environment where they can discover their honest behavioural responses, try out different strategies, and gain valuable feedback. For the best and most memorable results, use professional actors and facilitators in a workshop-type setting.
When undertaking experiential training, be sure to include managers/supervisors so they know how to properly support their workers. And, it's perfectly okay to throw some more conventional training tactics into the mix. Computer-based learning can be a great way for your workers to learn the basics of your lone working policies and procedures. Just be sure to follow up with targeted immersive training to capture their interest and make a difference in the long-term.
Want to learn more about creating lone worker solutions that are memorable, effective, and easy to execute? Explore our blog for more practical ideas.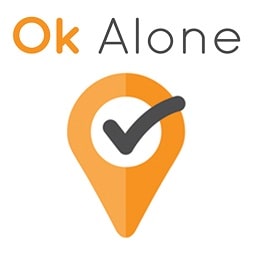 The Ok Alone team writes informative articles about lone working. Through our articles, we aim to educate readers on the benefits and best practices of using our lone worker app, and how Ok Alone can help mitigate risks and enhance communication between workers and monitors.  Learn about other areas including legislation, risk management, and legal compliance plus lone worker features such as man down, high-risk check ins and location monitoring.