The latest in lone worker safety technology | IFSEC 2016
Thousands attended the recent IFSEC 2016 trade show at the Excel Exhibition Centre in London, the biggest show in the UK for the security industry with over 600 exhibitors. A lot of new and newly upgraded systems, safety apps and tools were shared with interested visitors from across the globe.
Rapid technological advances lead to innovative solutions for all sorts of security problems, such as our safety app for lone workers. We help businesses like yours look out for your staff, because everybody deserves to go home safely at the end of their workday.
Drop us a line to learn more about our lone worker safety app.
Know Your Staff Are Safe at all Times with Ok Alone
Sending your people out to work on busy roadways, at construction sites and at isolated locations can be dangerous. With our lone worker check in service you can safeguard each person and be compliant with all safety regulations.
Building sites can be particularly hazardous. When workers are performing certain dangerous tasks, you can trigger the 'high risk' check in feature, having them touch base as frequently as every ten minutes.
Our automated and live monitoring system is affordable, flexible and simple to set up and use. The safety app provides a point of contact through a cell phone, but land lines, satellite enabled devices or any internet connected device can also be used.
With clients in the UK, USA, Canada, Australia and New Zealand, Ok Alone is an industry leader in lone worker safety. Let us show you how easy and effective our lone worker check in service is.
Interested in a free trial?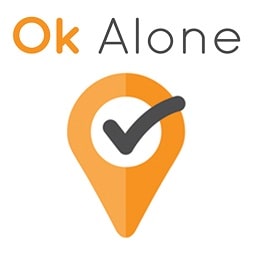 The Ok Alone team writes informative articles about lone working. Through our articles, we aim to educate readers on the benefits and best practices of using our lone worker app, and how Ok Alone can help mitigate risks and enhance communication between workers and monitors.  Learn about other areas including legislation, risk management, and legal compliance plus lone worker features such as man down, high-risk check ins and location monitoring.